Dated: 7:54am on Monday 10th June 2019
Strategy Guide To Gold, Berries, Xp, Quests, Earn Profits, Neighbors, Mini Games And More.
Begin Your Game
The game starts with a storyline of Gargamel chasing the Smurfs out of their village and now it is up to you to help them rebuild a new one. Each time you build a mushroom house you will attract one additional Smurf to the new village. They will garden, build buildings that allow them to sell items such as baked goods and many of the buildings have mini games associated with them that allow you to earn extra XP (Experience points) and cash.
Follow Papa Smurfs instructions and any goals stated and you will do very well with The Smurfs' Village. TAKE NOTE: Whenever you see an "!" over Papa Smurfs head be sure to tap on him as this means there is a new objective for you.
There is a settings area where you can restart your game if you wish. Please note this is a permanent change and you can not get your previous game back.
IMPORTANT NOTE: Please note that if you purchase Smurf berries or any premium items, then reset your game, you will lose all of your purchases. So do this only if you are willing to lose your investment.
Make sure to check back frequently for game upgrades and enhancements.
Game Elements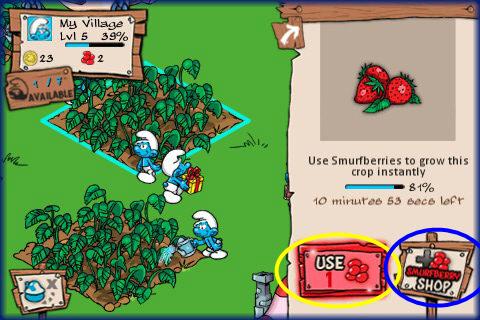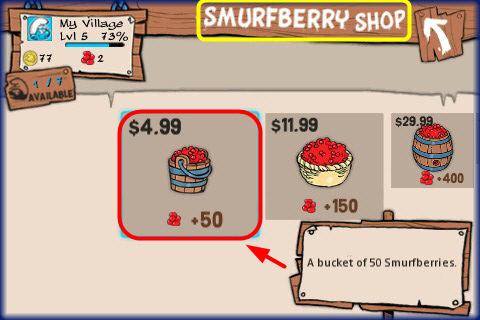 There are 2 types of elements in the game. You will begin the game with 300 Gold Coins and 0 Smurf berries until you reach level 2 when one of the Smurfs will find 3 free Smurf berries for you to use in the game and you can also receive them occasionally as free gifts from Jokey Smurfs free Gift of the Day. (See Jokey Smurfs Free Gift of the Day below for more information.)
Gold Coins: These are the main currency in the game and will be needed to purchase items for the village.
Smurf berries : These are a premium element which allow you to purchase higher end items and also eliminate the wait time of larger building projects. You must purchase Smurf berries via the iTunes store which will charge it to a major credit card. You can purchase them in bundles beginning at $4.99 up to $50.00.
XP (Experience Points) : These are what you earn which allow you to level up in the game. Each item you build or purchase will earn you a different amount of XP.
Know about Quests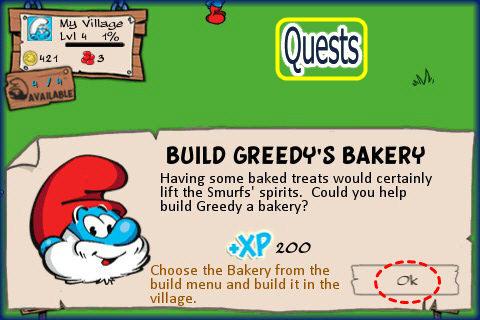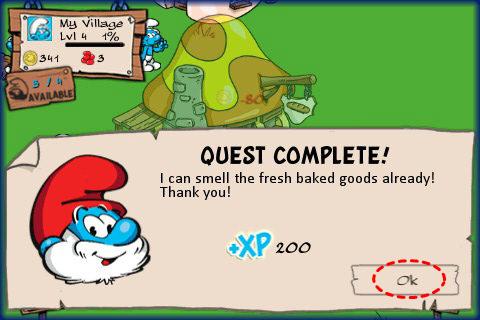 Papa Smurf will lead you through various quests in the game.
In case you see him walking around the village with a yellow "!" make sure to tap on him as he has a new quest for you.
Each time you complete a quest you will earn XP which will help you to level up faster.
The more quests you complete the more XP you will earn.
Some quests take a very long time to complete (such as placing the bridge) so it is important to do them in the order Papa Smurf presents them to you if you can afford it.
Earn through Gardening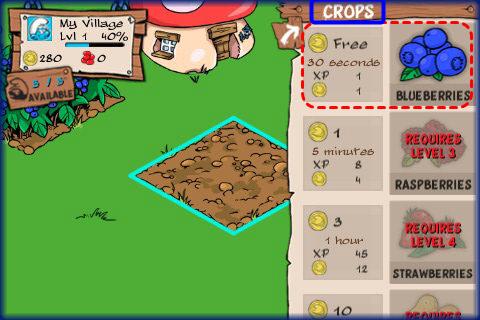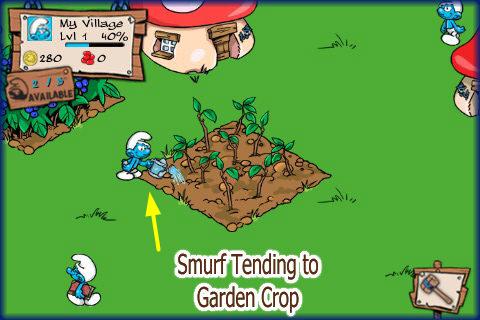 Gardening is a good way to earn money to reinvest into the Village.
You will earn 10 XP for each Garden Plot you place in the Village and will need 1 Smurf to tend to it.
Tap on the Build icon at the bottom right of the screen and then tap on the Garden plot to place it.
It costs 20 coins to build a Garden plot and it takes less than a minute for the construction to complete.
When you place the Garden plot tap on the Blue button with the check mark to lock in the purchase.
You will immediately see a Smurf walk up with an hour glass above his head. He will begin to plow and water the plot.
If it is ready tap on the plot and a menu will appear allowing you to choose a crop.
In case you select Blueberries you will grow an entire crop from start to finish in 30 seconds and earn 1 coin and 1 XP when you harvest. The great part is that this crop is free to plant. It takes time but you can earn a little extra seed money if you have the time to grow and watch over several Blueberry crops.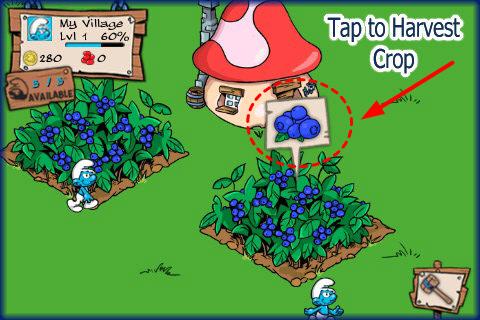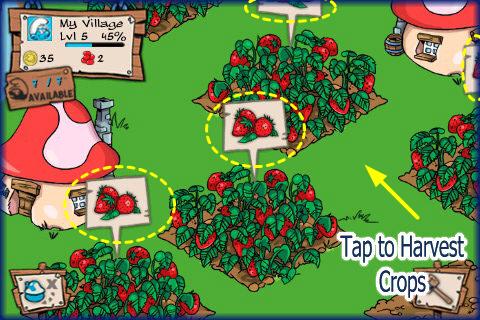 When they are finished growing you will see a picture above the crop. You should tap on it to collect it and the plot is immediately ready for planting again.
TAKE NOTE : In case you do not harvest the plot in time the crop will spoil and you will need to tap on it to clean it up. There is no charge or fee to clean the plot but you will have lost the money you invested in the crop that spoiled.
When you level up more crops will unlock each costing different amounts and taking different amounts of time to mature.
Greedy Smurf's Bakery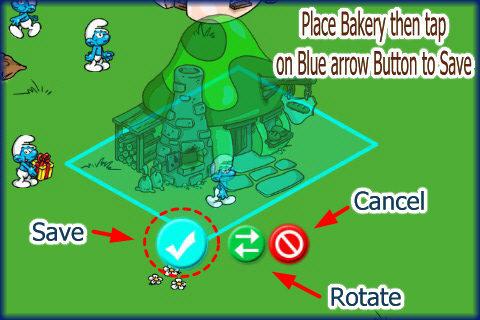 When you reach level 4 you will require to build a Bakery.
You will earn 200 XP for completion of this quest and will be able to bake items and play a baking mini game for extra XP.
Choose the Bakery from the build menu and place it in a central location of the Village.
Tap on the Blue button to lock it in and wait for construction to complete.
Once construction is complete you can play the Bakery mini game (See Mini Games below) for extra XP.
You will need to wait for the Bakery to be cleaned in between games or you can pay 1 Smurf berry to clean it instantly.

Mini Games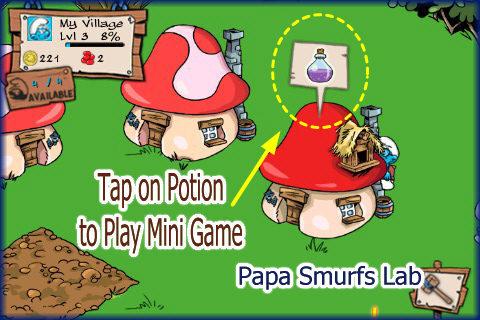 There are mini games associated with various buildings in the game and you should start to see them once you reach level 3.
There is a small icon which you will see over a building if a mini game is available.
When you complete a mini game and earn XP you will have to wait a certain amount of time before you can play again.
When you tap on the building, it will bring up a notification telling you how long til the game is available again.
Some games will allow you to practice for no XP to improve.

Potion Mixing Game (Papa Smurf's House)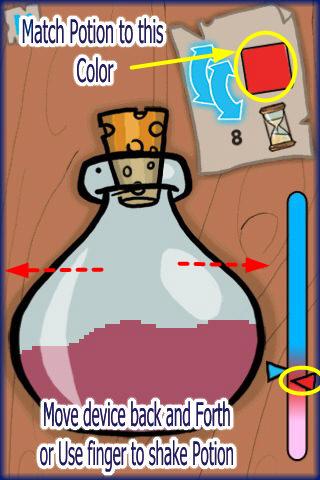 When you tap on Papa Smurf's house you can play the "Potion Mixing Game"
This will earn you extra XP based on how well you do.
If the lab is ready for you to play you will see an icon of a potion bottle over Papa Smurfs House. Tap on it to begin.
You will be allowed to make the Red potion at first and as you level up in the game more potions will unlock for you to play for.
When you see the potion screen shake your device back and forth or use your finger to move the bottle back and forth until it changes the color shown at the top right of the screen.
You have 15 seconds to achieve the red color.
In case you shake too long it will turn pink and you will earn less XP.
When you finish the potion it will be placed in the village on the ground for one of the Smurfs to pick up and drink.

Greedy Smurf's Bakery Game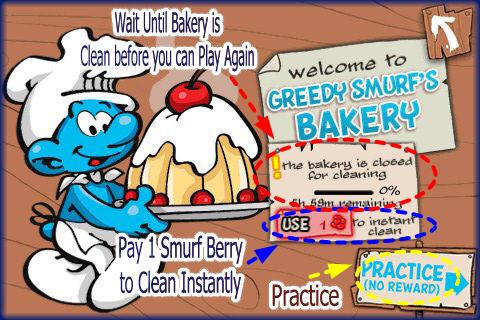 If you see the pastry above the Bakery you can play the Bakery game for extra XP.
You can also practice this game between cleanings as once you finish the game you must wait approximately 8 hours for the building to be cleaned or you can pay 1 Smurf berry to clean it instantly.
You will start out with Cookies unlocked and at level 5 you can choose Blueberry Cupcakes and at level 6 Strawberry cupcakes and so on each giving more XP as a reward.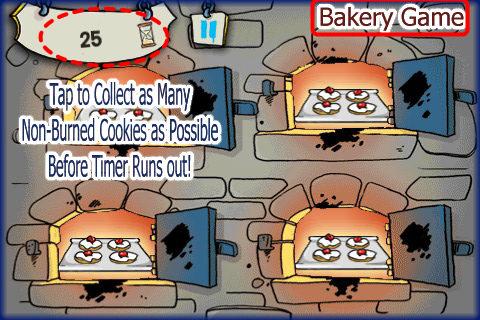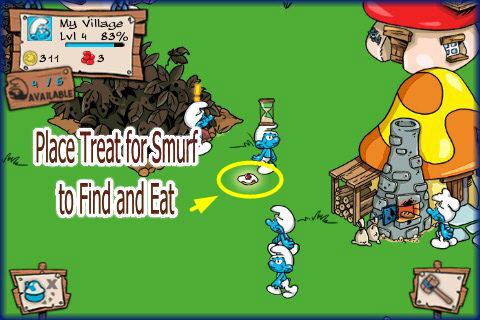 You will see 4 ovens and will need to tap on the oven to bake the items.
They will bake quickly and you must tap on them as soon as they are done and then tap again to bake more.
You should bake as many cookies as you can to earn XP before the timer runs out at the upper left corner. You can pause the game if needed using the button at the center of the screen.
You can also practice for a better score by tapping on the practice button but note you will not earn any XP during these sessions.
Painter Smurf's Painting Game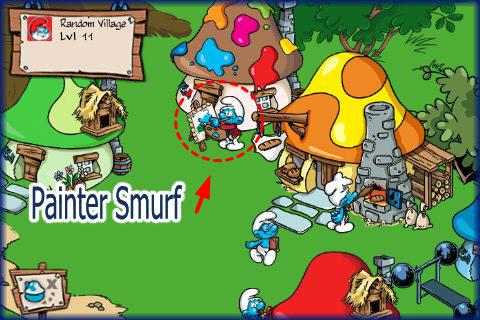 If you see the paintbrush icon above Painter Smurf's house you can play the Painting game for extra XP.
As you level up more items to paint will unlock and earn you higher amounts of XP.
You should tap on the paint and then tap on the correct area for that color.
You should do this before the timer runs out and you will earn XP based on your score.

Jokey Smurf's Daily Gift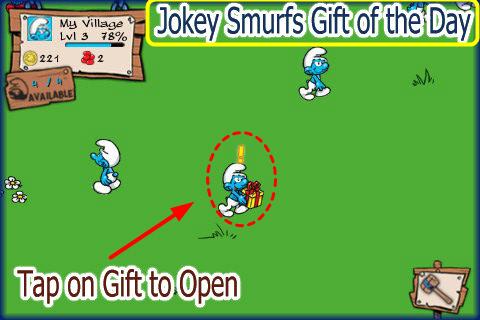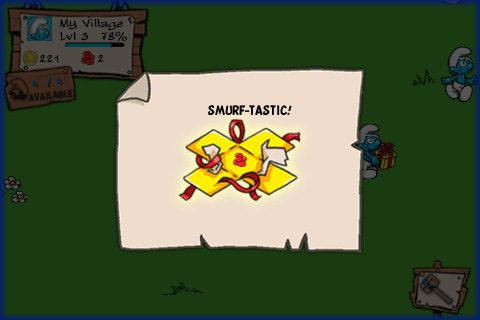 One of your Quests will be to find Jokey Smurf.
He is the Smurf carrying the yellow gift box with the red bow.
As you see him you will be able to tap on him once per day for a free gift.
Usually the free gifts is a small number of Smurf berries.
Also look for the yellow "!" above his head which makes him easier to spot.
Purchasing items in the Store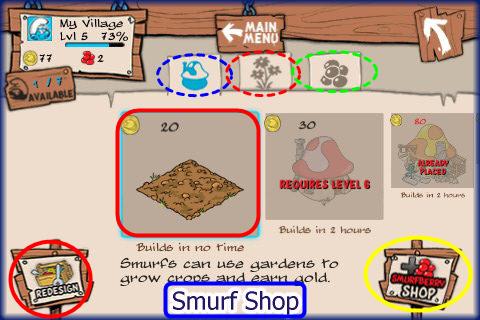 If you tap on the build button at the bottom right of the screen you will be taken to the game store.
There are 3 tabs at the top which break the categories into buildings, plants, and items purchased only with Smurf berries (Premium Items)
Take Note that under each building it will state the build time and cost.
Many items will require you to reach a certain level before they are unlocked for purchase or you may have to have a certain number of smurfs in your village or a certain structure already placed before you can purchase a specific item. Any of these restrictions will be listed on the item.
When you purchase an item it will appear in shadow form in the village. Take your finger and drag it to the location until you see a green shadow under it which means there is enough room to place it.
You should Tap on the blue arrow button to lock it in place. In case you require to rotate it first tap on the center button and if you change your mind tap on the "X"
TAKE NOTE : All purchases are final and if you purchase premium items or Smurf berries and reset your game you will lose ALL items you have purchased!

Building Houses/Placing items on the land.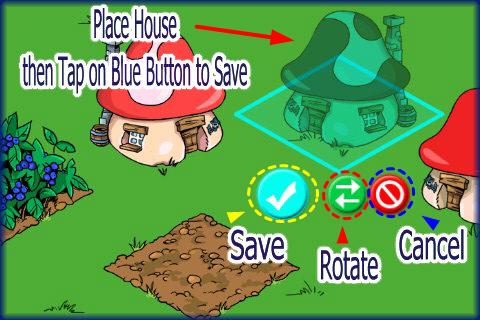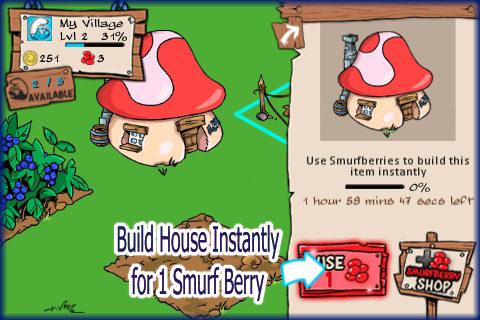 Further, you will be asked to build houses in the village.
You will earn 30 XP for the Build a House Quest.
You should tap on the Mushroom house icon in the build menu.
Place the house and lock in the transaction by tapping on the blue button.
This will move in more Smurfs so be sure to build houses on a regular basis to grow your village.

Special Houses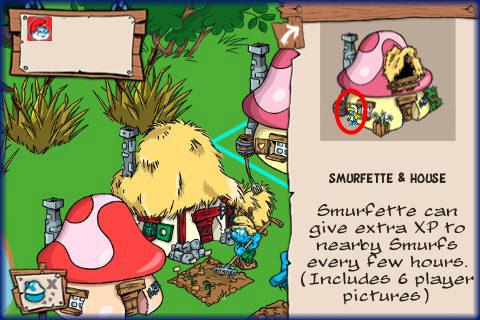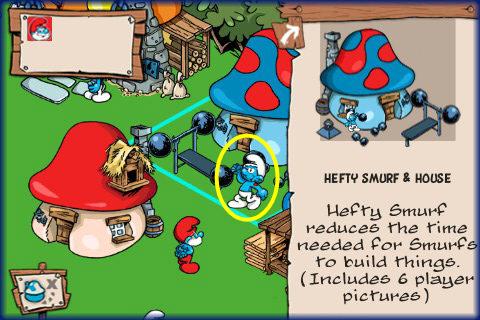 Take Note : As as you advance in the game you will be able to purchase bigger mushroom houses that hold more Smurfs and certain buildings will trigger mini games and others will cause advantages to your game.
Smurfette and House : Smurfette can give extra XP to nearby Smurfs every few hours.
Farmer Smurf and House : Farmer Smurfs attention makes nearby crops worth more.
Hefty Smurf and House : Hefty Smurf reduces the time needed for Smurfs to build things.
Handy Smurf and Workshop : With Handy Smurf you can upgrade mushroom houses so there's more room for Smurfs.
Artsy Smurf and House : With Artsy Smurf you can play a Painting game to earn extra XP.
Greedy Smurf and Bakery : With Greedy Smurf and the Bakery you can play a Baking mini game for extra XP.
Papa Smurf and House : With Papa Smurf and his Lab you can play a Potion mixing game for extra XP.
Visiting Other Villages (Neighbors)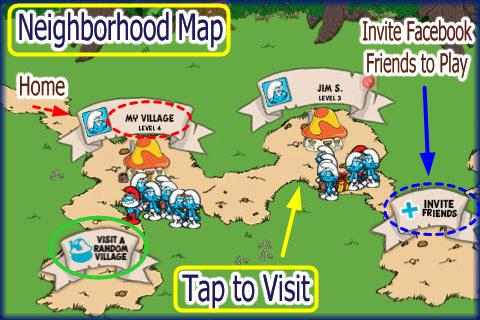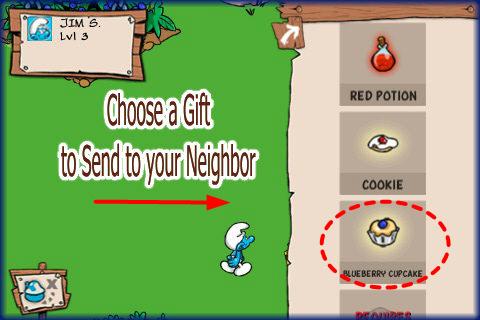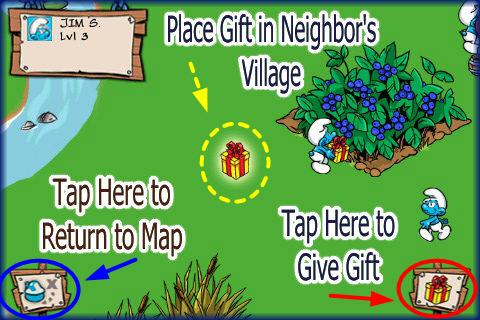 You should tap on the Map icon which is at the bottom left of the screen to see your Friend's Villages.
Once you are in their village you can tap on the gift button which is at the bottom right and give 1 free gift every 24 hours.
Giving a Gift : A menu will appear allowing you at first to choose 1 of 3 items which is a red potion, cookie, or Blueberry Cupcake. As you level up in the game there will be more gifts to choose from.
Tap on the gift you would like and then place it on their land somewhere in the center of the village.
When you neighbor logs into the game they will collect the free gift you have sent to them and will hopefully return the favor.
Invite More friends to play : You should tap on the Invite Friends Icon at the far right of the Neighbor map. This will cause a message to appear on your profile page at Facebook giving friends a link to download the game. When they download the game and log into Facebook they will automatically appear on your friend list.
This Website is not affiliated with Smurfs Village. trademarks are the property of their respective owners. Game content and materials copyright Smurfs Village. all right reserved.