Dated: 3:06am on Thursday 9th July 2015
Strategy Guide To Improve Multiplier, Upgrade Power Ups, Save Hoverboards, Keys, Coins.
Introduction to Subway Surfers
While playing Subway Surfers by your friends, sometimes you realize that all of your friends are getting higher scores than you in the game. So, you must know about each and every aspect of the game. So, for better understand the game, we bring you some important tips, hints and tricks that will certainly help you for leveling up and get top position among your friends.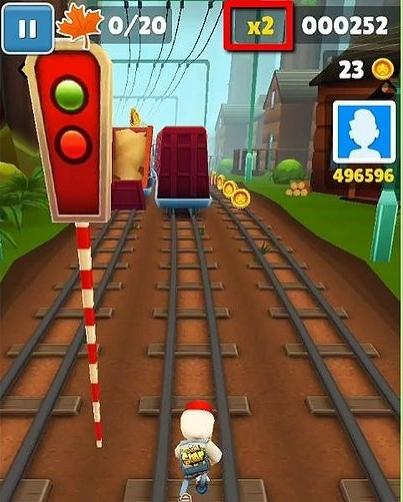 1. Improve your multiplier
There is a nice way to get a higher score quicker so as to improve your multiplier. As you first begin playing, your multiplier will be set at x1. Every time you beat a set of missions, your multiplier will permanently increase by one, up to x30. This means that your score will be 30 times what it would normally be if you have a full multiplier.
Missions include collecting a specific number of coins, jumping a certain number of times, picking up specific power-ups, and more. You can see your active missions by tapping the Missions button at the top of the main menu.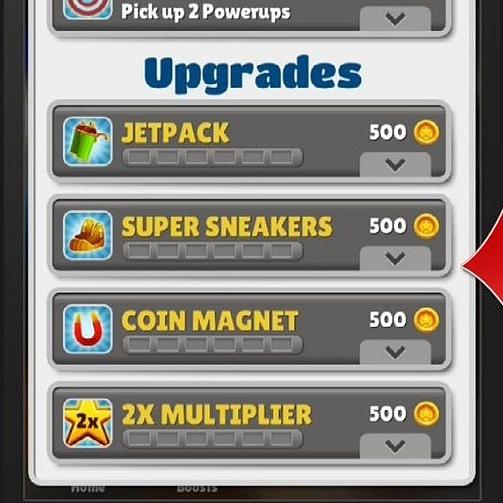 2. Upgrade your power-ups
There are the most powerful pickups for increasing your score i.e. The Coin Magnet, Jet Pack and 2X Multiplier. The Coin Magnet will pick up any coin you run past, even if it isn't in your lane. The Jet Pack will launch you above the course, where you are free to collect coins without worry. The 2X multiplier will double your current multiplier, up to 60x.
You can upgrade these powerups by spending coins that you ear on runs. Increasing the effectiveness of these powerups can dramatically increase the amount of coins that you earn.
You should upgrade your Coin Magnet and Jet Pack first. This will help you early on in the game as you earn coins to unlock more upgrades and complete missions. Once your Multiplier is close to 30x, start upgrading the 2X Multiplier powerup. This will really start to significantly boost your scores.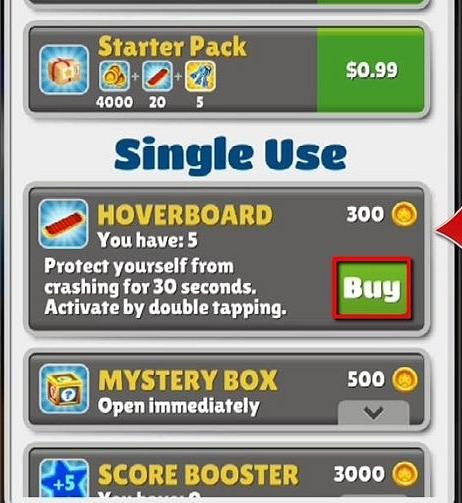 3. Save Hoverboards
These can be bought for coins or won in prize boxes. Hoverboards last for 30 seconds, but their true power comes in taking a hit for you. If you hit an object while riding a hoverboard, your run won't end. Instead, you will be back on foot, continuing your run and increasing your score. You should always have a good stock of motherboards to use in emergencies when you can't avoid hitting something.
Moving forward is one of the two primary ways that you earn score. Hoverboards ensure that you keep moving forward, and your score keeps increasing.
Have 600 to 900+ boards. Use them when your character already runs too fast for you to handle.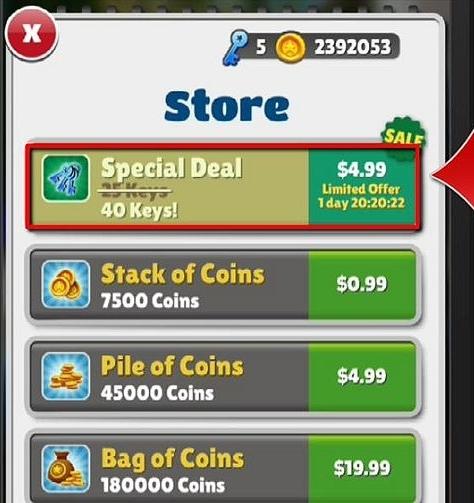 4. Earn keys
Keys are a currency that allows you to continue your run when you hit an object. Keys can be found while running through the course, in mystery boxes, or from weekly missions. You can also buy keys for real money. Having a good stock of keys can help keep a good run going a long time.
You should use keys only when you hit something without a board, at 500k+ score.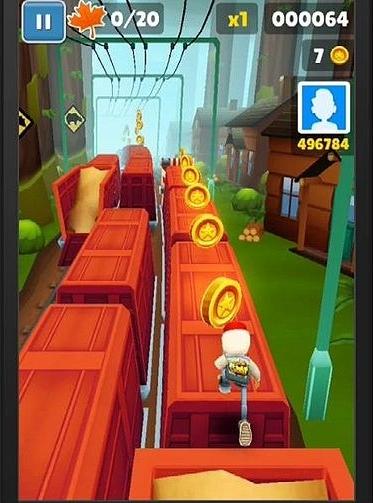 5. Collect All Coins
It may seem obvious, but it cannot be stressed enough. For a really high score, you need to be grabbing as many coins as possible. This means using your power ups to their maximum effectiveness, performing perfect runs and lane changes, and not missing the timing of your jumps.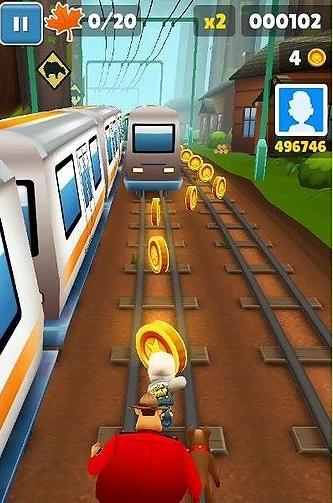 6. Practice often
Since every run is different, you cannot just memorize the level and do the same thing over and over until you have the high score. You need to practice so that you can see the patterns coming and react in time. You probably won't get a very high score when you first start, but after a few weeks of practice, you'll start to see it creeping closer and closer to that elusive 1,000,000 point total. Keep at it!
Know about Important Tips
When you have a coin magnet in the middle of a game, use a hoverboard to get in as many coins as possible.
Save your coins, because then you will be able to get hoverboards that are faster and have different powers. That way you have a more likely chance of getting a high score.
You do not need to buy hoverboards. You will earn plenty of hoverboards from mystery boxes from the daily challenge, and from the mystery boxes you will find in these runs.
You should listen to music. You will be more into the music than the game and you will ultimately zone out and go through the motions with the game.
You should use score booster and headstart at the start of the run.
Upgrade score multiplier to the maximum x30 by doing quests and the x2 in shop.
Do not look at your score when you are playing because it will distract you from the game.
You should try to complete daily challenges. If you complete the word challenge, you will be rewarded with a white mystery box. You can be rewarded with a lot more coins than they would usually give you when not completing any challenges. The box may also hold materials needed to unlock a new character or they may just give you free gifts like trophies and hoverboards.
Don't forget that after you get to the fifth daily challenge, you keep getting the best prize until you miss one.
In the game, getting a high score may take some time, so have patience.
Collect keys & hoverboards. Those will help you in getting high scores.
This Website is not affiliated With Subway Surfers. Trademarks are the property of their respective owners. Game Content and Materials Copyright Subway Surfers. All right reserved.