Dated: 7:54am on Monday 10th June 2019
Strategy Guide To Warehouse, Gems, Resources Stats, Xp And Items, Collection From House, Spending Gem Wisely And More.
Introduction to The Tribez & Castlez
The story begins as there is unexpected situation happened during scientific experiment that let you end up in another world. A world from letting you to rebuild your kingdom as Prince Eric and protect it from intruders' attack . That world is full of magic: you will see Dragosi in the skies, even the forest are bounded by vicious creatures and darkest dungeons to explore. Thanks to the help of our friends, Professor and Aurora they will guided us to bring the harmony in the kingdom and your entire adventure to this so-called new .
Your adventure will let you experience dungeons exploration with powerful mages and towers. To lift the margin of your kingdom you need to search for mysterious artifacts as a tool for war beneath dangerous monsters. Don't worry because though there are evil creatures to slay, in-game you will also meet loyal friends to fight with your side and definitely when it comes with castle and kingdom there is always a beautiful princess to marry.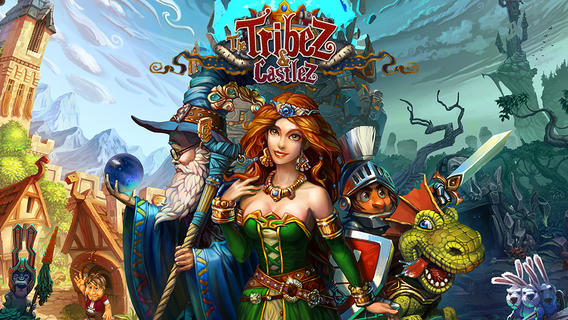 Important Tips and Tricks
In case of confusion regarding what to do? You should start completing your list of quests. Actually there are lots to do in this game but you don't have a pre-set pattern for every action because you are independent to do what you like such as building, questing, collecting, exploration and etc. With this several task to do, most players asking what they need to do first. So as for beginner, you should do your quests as this can help you with in-game guide. You can view your quest-related from the left side of your screen and from there you will be guided on what things you must do. Just only remember that not all quests are available to play on certain situation because there are some of it will ask you to go for other town while there are town with level requirement. Just play it easy and clear quest that seems possible for you to attain.
In case of reaching warehouse capacity? Do task before collecting food. In the beginning of the game you will experience reaching the cap of your warehouse due to lack of upgrade for additional resources it can hold. If that is the case you should do task first so your villagers will consume it. You can send them to do some task and let them consume your resources from warehouse and that is the time that you can have slot for new harvest. You will see when your crops or trees are ready to harvest but there is a notification of red icons which say that there is no further space in your warehouse for food storage. With this trick you will not waste anything from time replenish and putting it into advantage. In any building simulation game, you should good in managing time as well because everything plays with time.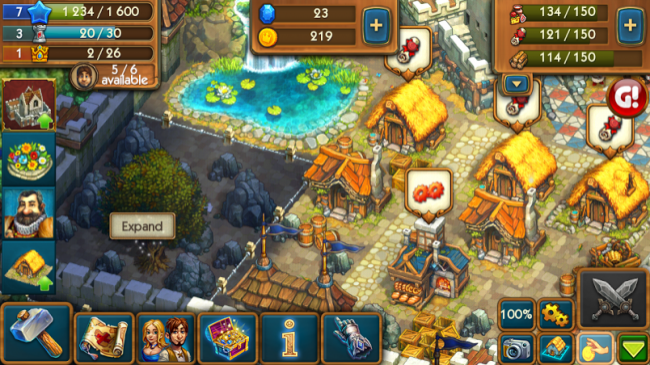 Do action for XP and Items. You need to keep yourself busy by clearing bushes, grass, stumps and trees to keep your area clean and ready for innovation as well as getting additional XP and items. As long as possible for you to do an action especially in clearing such mess, you better start it soon, so it will not be a problem for further improvement of your game such as building structures that will consume lots of space. This also works with other building games and we definitely prove that we can have a compensation out of it.
Checking your resources stats. They said that you cannot improve what you can't measure so be it with The Tribez & Castlez. In this game it is suggested to tap the green arrow located on the lower right side of your screen to view your menus. You will see there as to what is in your warehouse and track your food storage just remember that without resources there is no way for your villagers to do their task. It has already been stated that what to do when you reached the storage limit but actually there is a way of anticipating it before it happened to your gameplay and that is by tracking the record of your resources.
Getting free gems. You must be knowing that in any games for Facebook, Android and iOS, your biggest advantage is to get premium currency but in this game i.e. The Tribez & Castlez, this is in the form of gems. Generally, players download cheats to get unlimited gems or use their real world money to purchase it in official app store. But this time, instead of doing the basic ways of getting gems, we must claim gems for free and this is by logging in into Facebook and Twitter. As simple as that to get a good amount of gems.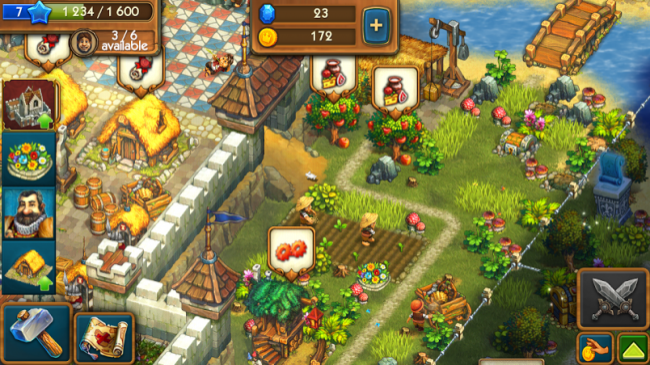 Need of Constant Farming : As the game do not observes energy system you can do farming constantly (unlike with other games) so you can have a steady supply for your villagers in form of food for doing a task and exploration. What you need to ensure here is to have a good capacity with your storage or like farming you must request your villagers to do task as often as possible so you will not reach the limit.
Need of Collection from house. Just like in farming you should also do collecting constantly for experience and scrolls. This is by keeping an eye on your houses for collection as well as upgrading it for more wish scrolls and XP it can produce.
Boost your influence. This makes the game fun to play as there is no such feature in any other simulation/building game. In this game instead of buying land/expansion permit (based from typical games) they have influence system that will let you to expand to other territories. To boost your influence you should do aesthetic ideas with your territory by putting decorating items such as flowerbeds, roads and lot more.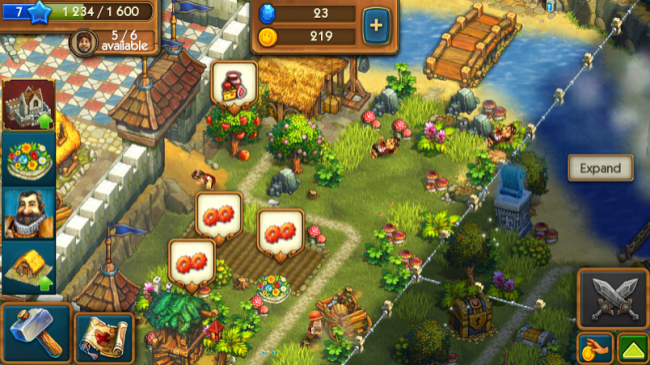 Consider planting different time-growth plants. As a beginner, there may be a question to ask, ask what kind of crops you should plant where you can get advantage. Well based on observation you should mix long-growth crops and short-growth crops so you will ensure you have always crops to harvest for your villagers. But there is an exception if you are expecting that you are not able to play the game for a long time, you should focus on planting crops that will take hours to harvest.
Saving and spending gems wisely. Due to new entrant in the game, you might also want to know what is the good way to invest your gems. The good thing in this game is that you will start not on empty handed as The Tribez & Castlez will treat you more gems. Players failed to manage it as it is really tempting to use these gems on speeding up process. Actually that will be the worst thing to do with your premium currency. But if you are eager to use your gems, you should consider adding new workers for more action to do at once.
This Website is not affiliated with The Tribez And Castlez. trademarks are the property of their respective owners. Game content and materials copyright The Tribez And Castlez. all right reserved.