Dated: 7:54am on Monday 10th June 2019
Strategy Guide About Formation, Tactics, Tokens, Cash, Sponsorship.
Introduction
Top Eleven: Be a Football Manager has now become a popular game which offers the same level of excitement as experienced by us in other popular football manager simulation games. In this game, you can create your own club: design its emblem and jerseys, train your squad, manage your club's finances, find advertisers, upgrade your home turf, and buy and sell club stars. The best aspect of the game is the opportunity to play against your friends as well as other facebook users. You can track live matches and take actions in real-time according to circumstances that unfold during the game.
In case you are a beginner, then you should know about eleven tips and tricks before playing your first competition. So, we bring this guide which contains important tips, tricks and hints of this game that will certainly help you become a pro football manager.
Know How to Play
As a beginner, you should know that this is a football manager simulation game, not an online soccer game. The game simulates the hard work, struggles, victories, and defeats of a football manager, not a player. You will have to be sure you get the best players from the pool, train them, use the right formations, and earn money by selling tickets and attracting sponsors.
When you start the game, you will have the opportunity to design your club emblem and jersey, choose a name for your club, and choose a country and city.
When you have created your club from scratch, you can start training your players. You can also keep track of your players' defending skills, attacking skills, morale, and other aspects that determine the fitness levels of the players.
Game Interface: Know About Seven Key Screens
In this game Top Eleven: Be a Football Manager, you will come to know a small bar with different icons: News, Squad, Training, Fixtures, Competition, Transfers, Finances, Stadium, Club Information, and Trophy Room. Each icon serves a different purpose:
1. There is News Icon and by clicking on the same, it will display the latest news, including new sponsorships available, which players are available, and which footballers have retired at the season end.
2. There is a Squad screen which provides information on squad line-up as well as the available formations and tactics. You can check the defending and attacking skills line-up through the drop-down menu. You can also change the field tactics by clicking on the Formations tab. This tab allows switching between pre-defined tactics and active tactics.
There is a Squad tab which provides a "character map" of each player in your squad. You should click on the player there, and get an in-depth analysis of his defense tactics, attack tactics, contract status, stats, and health. You can improve his skills and help him learn new roles.
3. There is a Training screen which gives you an opportunity to train your players. You can assign personal trainers, give them a rigorous training and exercise session, and assign them a practice match.
4. Fixtures allow you to see the time and date of the competition your club will play. You can also see your friend's Fixtures.
5. There is a Competitions screen which will display team standings, matches, top scorers, rules, and other aspects that will help you to learn more about league matches. Be sure you read the rules.
6. There is a Transfers screen which shows you the listed players, favorites, and received orders for the players you've sold.
7. There is a Finances screen which gives you the opportunity to manage your finances. In this screen, you can sign up for sponsorships (click the Sponsors section to sign up), set ticket prices and bonus, and get help from your bank.
8. There is a Stadium screen which allows players to upgrade their stadiums. You can upgrade your stadium by increasing the spectator capacity; adding more facilities like snack bars, portable toilets, cafés, and restaurants; and providing emergency medical vans and first aids.
These key screens will certainly help you get more out of the Top Eleven: Be a Football Manager Facebook game. So, please go through some important tips that we are giving below:
Important Tips and Hints
1. Do remember that recruiting young players will give you an edge over your opponents. You should click the Squad section and check whether your current players are on the brink of retirement, or low in skills or health. You can sack or sell your old, low-performing players. In the initial levels, you will have to sell your players in order to empty the space for new players.
2. Be sure that you have got the right formations. They are crucial to your victory. In the Squad screen, select the Formations tab and select one active or pre-defined formation from top choices. Predefined Tactics give you more options to have a perfect formation for your squad.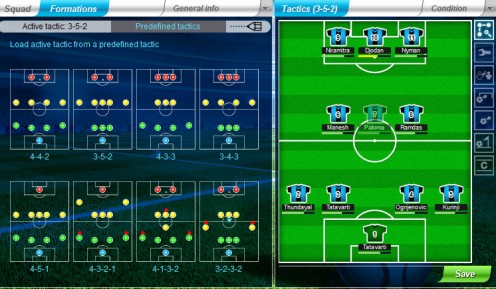 Formations and Tactics
3. You should always train your players whenever you get an opportunity. To train them, navigate to the Training Screen and choose the training type. You will have four training exercises to choose: Match Practice, Cardio, and Stretching. Some tips:
Training your players in all three types. This will help you immensely in generating skill points.
Each training session lasts 30-60 minutes. Clicking on these training modules will gain a certain percentage of skills but will also reduce the Health condition. For example, the Stretching exercise will help each player gain on the average 10% of a skill point, but will reduce the Health condition by 3%.
Training helps improve your player skills, but make sure you do not overdo this process else there might be chances of an injury. Check the intensity, and make sure that the training level is "Normal" and not "Hard" to avoid injuries.
4. Tokens and cash can be earned by you by dealing with sponsors, increasing your ticket sales, or getting money from the bank. Here are some key tips regarding earning money and tokens in Top Eleven: Be a Football Manager:
Sponsorship deals are a sure-shot way to earn cash. To sign up for a deal, go to the Finances screen and click on the Sponsorship tab. Click on the available sponsor to find out how much cash you can earn for one season.
To earn tokens, you should sign up for television rights. To sign a deal, you should click on the TV Rights tab at the top and click on the open deals. You will get up to 30 tokens for a period of 10 days. Make sure you come back often (i.e. sign in to Facebook and play the game) to earn tokens. For every sign-in, you get one extra token.
Another way to earn cash is to increase ticket sales. In the Finances screen, set the ticket price and winning bonus to encourage your club players for a win.
For increasing ticket sales, you need to do is to select the Stadium and click on Upgrades button at the bottom right side of the screen. A separate window will open up giving you options to increase your seats, change the field type, and add more facilities. The bigger and better your stadium, the more spectators you are likely to attract.
In case none of these give you sufficient cash to meet your club's needs, you can get financial aid from banks. In the Finances screen, click on the Help from Bank tab to get cash. But remember that you will have to spend some tokens to get the money from a bank.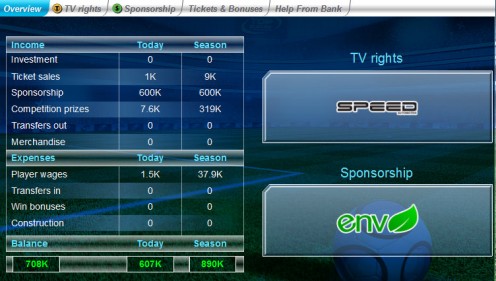 This Website is not affiliated with Top Eleven Be a Football Manager. trademarks are the property of their respective owners. Game content and materials copyright Top Eleven Be a Football Manager. all right reserved.