Dated: 3:04am on Thursday 9th July 2015
Strategy Guide About Property, Energy, Lucky Bucks, Sunny Coins, Neighbors, Some Important Tips And Tricks And More.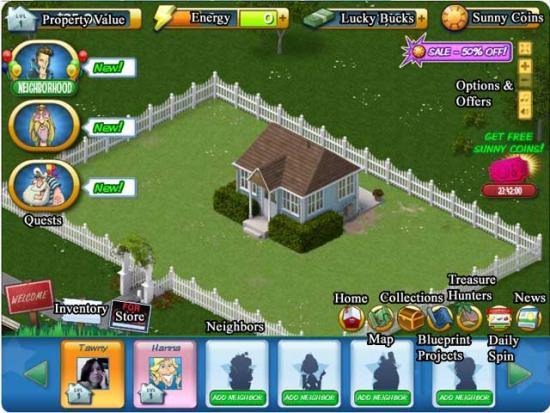 Game Elements:
Property Value : This displays the current value of your property, and acts as the game's level system. Purchase items to decorate your property and raise the value! As you fill the meter, you will gain levels and unlock rewards.
Energy : This is required to play hidden object areas and restore objects. Energy will recharge over time, or you can find items that will give you partial to full refills.
Lucky Bucks: This is the game's main element. Use it to purchase items, upgrades, etc.
Sunny Coins: This is the game's secondary element. It is much rarer and more valuable than Lucky Bucks.
Options & Offers: You can gain access to any special offers for the day here, or you can edit your options available with the game, such as sound and music.
News : Any special offers or limited items can be viewed from here.
Purpose of Daily Spin : There will be free spin that you may use once a day to try and win special prizes, viz. element, items, etc. Each day you visit, the chance of a better prize increases. You may also choose to spin again at any time using Sunny Coins.
Treasure Hunters Option: Organize cooperative efforts with your neighbors to search other yards for valuables at a lower energy cost.
Blueprint Projects: When you collect parts, you will be able to restore items into an item of greater value. These items can be viewed by you and restore them from here.
Collections : By obtaining high scores within the hidden object scenes, you may find collectibles. When you find all the collectibles in a set, you will complete a collection. The status of these collections can be viewed from here.
Use of Map : Use this to move between neighborhoods.
Home : Return home at any time by pressing this button.
Neighbors : Your neighbors are displayed at the bottom of the screen. You may choose to visit them, help them, or send them a gift, and they can do the same in return for you.
Store: This is where you can purchase various themed items to decorate your home and increase your property value.
Inventory: This is where you can access items that you've found in hidden object scenes and other yards. You can put these items up for sale by placing them in your yard.
Purpose of Quests: Look at the left side of the screen. Here, any current quests or goals will be displayed. You can earn rewards by complete the same.
Know How to Play the Game
At the start, you will be prompted to click on the Map icon at the bottom of the screen. Use this to choose the neighborhood you would like to visit.
When you find yourself in a neighborhood, you will see a series of houses. Houses with the corresponding owner's icon filled in mean that they are unlocked for you to play hidden object scenes at and search their yard sales.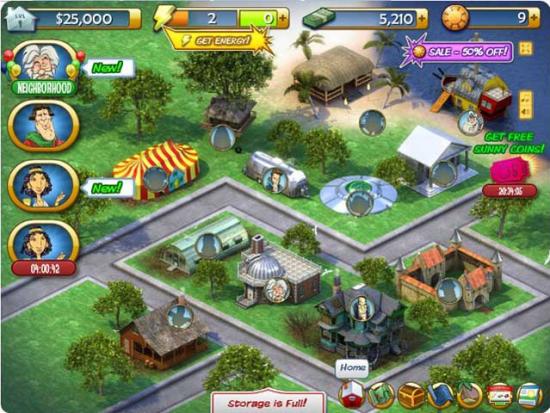 Click on the owner's icon and by doing this, you can view your mastery of that yard sale/hidden object scene, as well as any Blueprint Parts you have unlocked. Click on their icon to play the hidden object scene associated with their yard.
Playing a hidden object scene requires 2 Energy. Energy will recharge over time, though if you run out, there are also special items you may use to refill it, if you've found them, or you can purchase refills. Refill items will automatically appear if you click on something and don't have enough energy to complete the task. You can refill in this way.
Once you find yourself in a HOS (hidden object scene), the goal is simple: Find the objects listed on the left side of the screen. Upon finding them all, the scene will be complete, you will receive a score, and any rewards associated with completing the scene (such as yard sale items to be added to your inventory).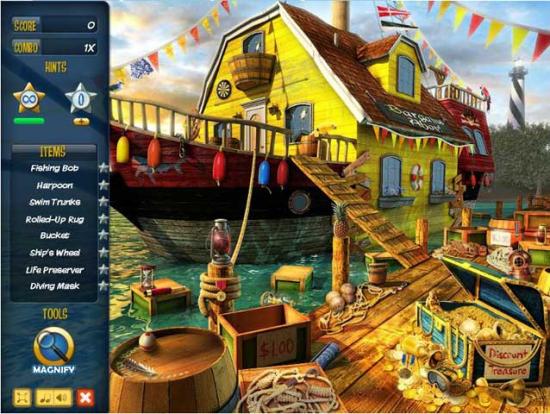 Two kinds of Hints are there and you can use within a HOS: Unlimited, and important. Unlimited Hints are, as their name suggests, unlimited, though they require time to recharge. Important Hints cost Sunny Coins to purchase for use.
An additional tool you will find within HOS as well , the Magnify Tool. This tool is free to use, and you can equip or unequip it at any time. When equipped, your cursor will turn into a magnifying lens, allowing you to enlarge and spot objects that may be hard to find otherwise.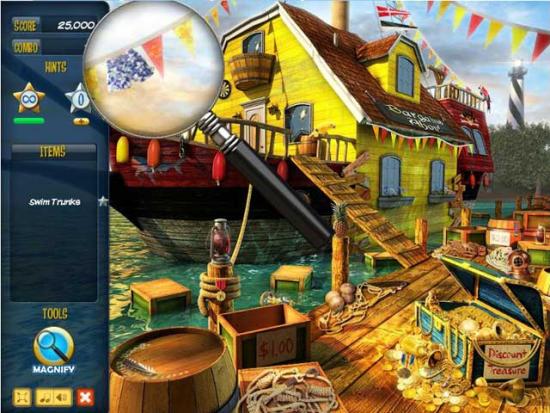 Upon completing a HOS, your score, mastery level, and rewards will be shown. You can obtain items that can be sold at your own yard sale by playing these areas. You may revisit a HOS as much as you like, provided you have enough energy.
Quests are shown on the left side of the screen. By clicking on a quest, you can view the objective and requirements, as well as the reward you will receive for completing it. Your rewards may be anything from Lucky Bucks and Energy Refills, to unlocking entirely new yard sales.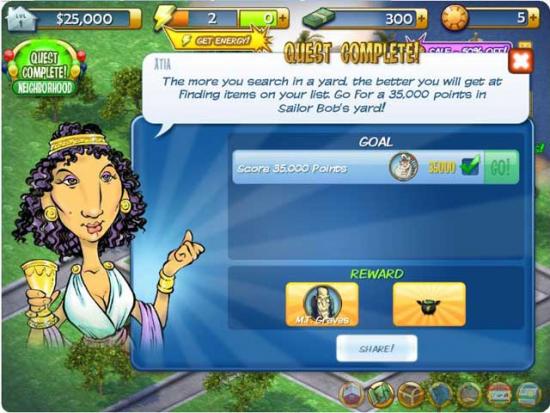 There is a chance, while you are playing a HOS, that a Important Hint Star will appear. Click on this to collect it. These will be kept until you use them.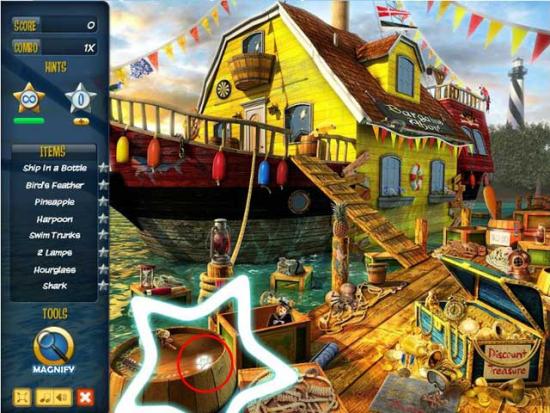 Completing a HOS and viewing your rewards, you may see you got an item with gold borders and a brown background. These are Collectibles, which can go towards completing Collections for rewards back at your Home, though they will initially be kept in your inventory with all your other items.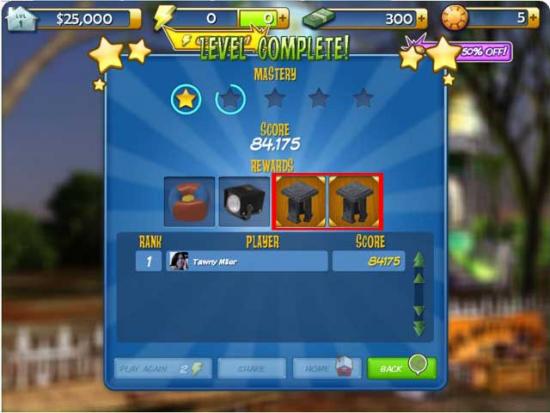 When you run out of Energy, you can either use or purchase a refill to refill it, or you can wait for it to recharge over time. As rewards, there are Energy refills that can be won for playing a HOS or completing a quest.
Eventually you will unlock Blueprint Projects. These are special restoration projects you can undertake for profit. By clicking the Blueprint Projects button at the bottom of the screen, you can access the sub-menu. From here, you can view the item you can restore, as well as the parts needed to restore it. By hovering your cursor over a part, you can see where you can find that part. Parts are specific to a HOS, so you will need to go and play that HOS again to try and find the part, which will be listed on the left with the normal objects. You may also select to flat-out purchase the required parts with Sunny Coins.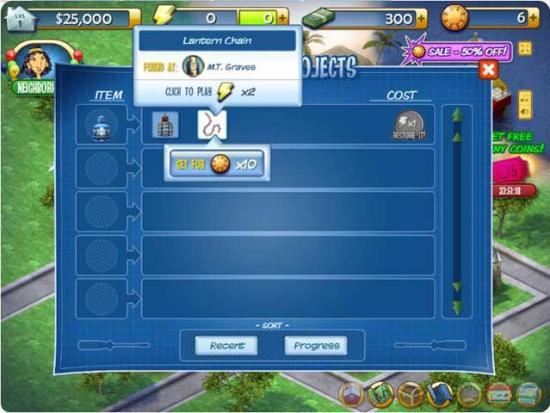 When you have acquired all the parts needed to restore an item, click the "Restore!" button on the right. Initiating a restoration costs 1 Energy.
Restoring an item, you will receive a series of instructions you must complete before you can assemble the final item. An example is shown below: painting a lantern.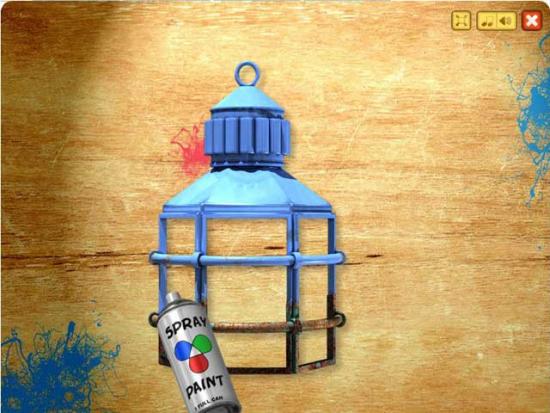 When you complete the restoration of an item, you can place it in your yard (sale). Offers will come in from there, and then you can sell it!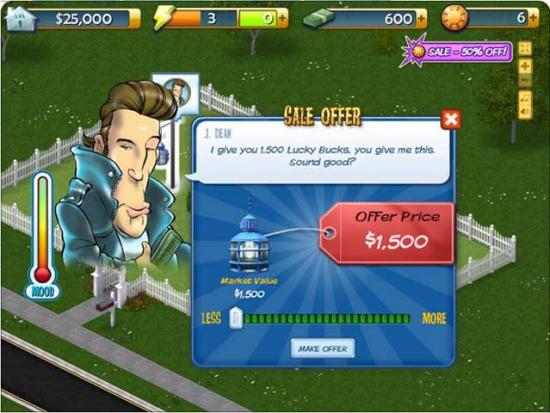 Selling items in your own yard sale is a big portion of the game. All those items you receive as rewards for completing a HOS can go in your yard sale. To access them, click on your Inventory in the lower left corner of the screen. Select an item, then place it anywhere in your yard.
After placement of an item in your yard, you can see how long you have to wait before an offer will come in by hovering your cursor over that item.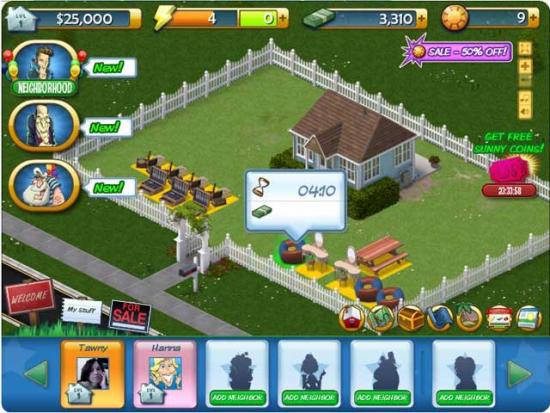 Offer for an item will come to you and after this, the icon of the person offering will appear over that item. Click on it to view the offer. From here, you can see the base value of the item, then choose whether to accept the initial offer, or ask for more. Sometimes people will pay more for an item, but sometimes asking for more will cause their mood to drop and for them to be less likely to pay a higher amount, so bargain carefully.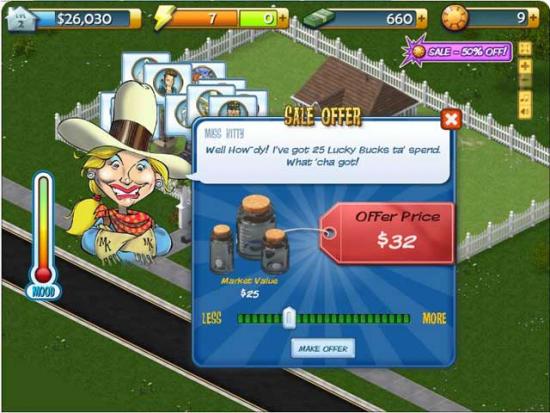 You can visit a friend's yard at any time by clicking on their icon at the bottom of the screen. Once there, click on items in their yard that they are selling to reduce the amount of time they have to wait for an offer to come in. You can help each other out in this way.
Now, in order to level up and receive additional rewards, such as increased total energy, you will need to increase your property value. To do this, visit the Store and purchase items to place in your yard. Purchasing items to place in your yard will increase the overall value of your property, and thus your level as well.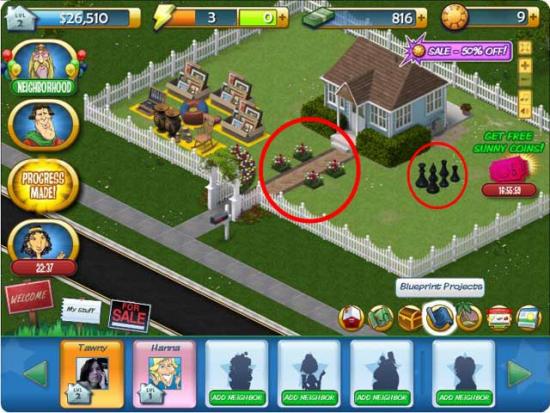 Know about Important Tips and Tricks
The key to achieving high scores is score chains. By finding items in quick succession to each other, you can build up a multiple score bonus. It's a good idea to take a moment to find a few objects on the list, make note of their locations, and then click on them in quick succession to receive maximum bonus points.
Objects on a hidden object list will often repeat, so the more you play an area, the more acquainted you will become with item locations.
You must be careful not to make wrong-clicks excessively within an HOS, or you will be penalized.
At some point, you're bound to encounter Full Storage, causing items you find to go into Overstock. When this happens, return Home and access your Inventory. Place any extra items in your yard to sell, as well as any items that may be in your Overstock, in order to clear more room in your Storage again and be able to pick up more items.
When bargaining with someone who's making an offer on one of the items in your yard sale, a fair bet for good profit is to ask for an offer raise to the middle level of the offer bar. More often than not, this will result in a successful deal, and a nice profit over the base value of the item.
For moving an object on your property, such as your house, simply click on it. You may choose to move or rotate it to a more convenient location.
Nice idea is there to save your Sunny Coins as much as possible. These are highly valuable, and hard to obtain, so save and spend them wisely.
Remember to collect your Daily Bonus every time you play to maximize any benefits for yourself that you can.
This Website is not affiliated With Yard Sale Hidden Treasures. Trademarks are the property of their respective owners. Game Content and Materials Copyright Yard Sale Hidden Treasures. All right reserved.