Dated: 7:54am on Monday 10th June 2019
Strategy Guide About Zoo Dollars, Wildlife Points, Bonuses, Shaking Items, Neighbors, Daily Gifts, Growing Maintaining Zoo, Types Of Gifts, Animals, Ideas For Zoo And More.
Game Elements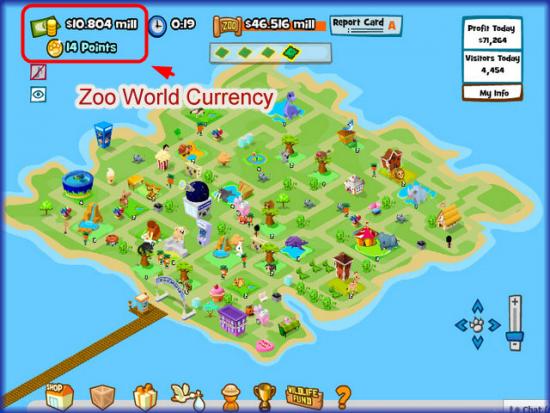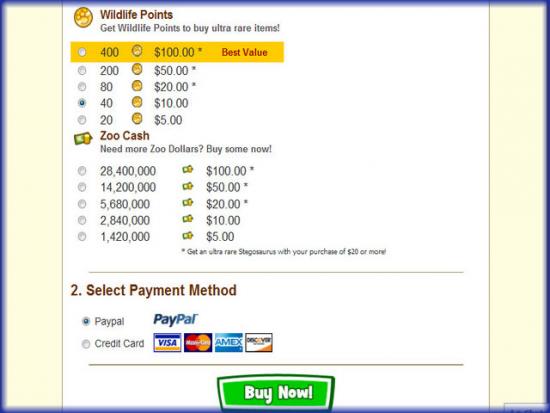 Two types of elements are found in the game Zoo World.
Zoo Dollars - This is the game's basic element and is what you earn during a typical Zoo Day. You begin with $50,000 Zoo Dollars and earn additional Zoo Dollars from your visiting guests, daily bonuses, Tree, Topiary, or Statue clicking, and visiting Neighbors.
Wildlife Points - This is a virtual element for buying virtual items for the game that are animated and ultra rare. There are always special sales and promotions.
1 Wildlife Points is equivalent to $70,500 Zoo Dollars.
To purchase additional element, Look at the green bar at the top left of the screen or on Wildlife Fund at the top of the Main Screen. Click this Green Bar.
You will be taken to another screen and can purchase Wildlife Points using a Major Credit card, Paypal Account or Mobile Phone services from Paymo and SMS Pay.
In the screenshot above you can see the current cost of additional element and the breakdown of quantities.
Earning of Zoo Dollars and Wildlife Points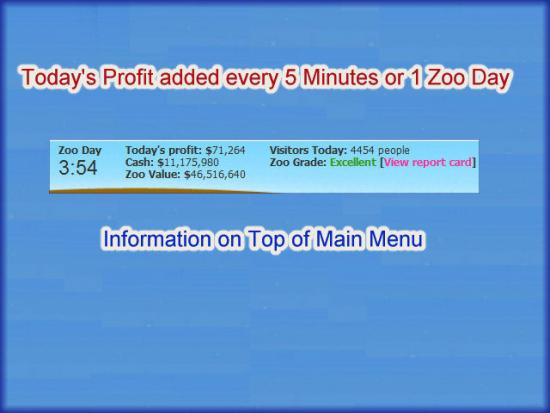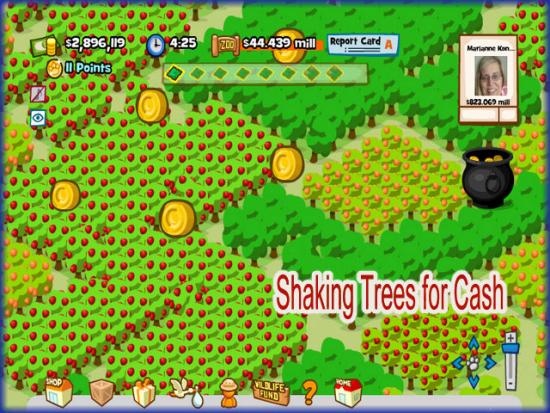 Zoo Day - Every 5 minutes you earn whatever amount is listed under "Profit" at the top of the screen. This is determined by the number of animals you have at your Zoo and the ticket price you have set for the day. Once you have the correct ticket price you will be earning the most amount of money available at that time. After you purchase more animals and attractions recheck your ticket price to see if you can raise it.
Harvest Updates on Zoo Visit - These are currently found at the beginning of each Zoo Visit. You will see a money bag on the front gate which you should click on and each day you visit your Zoo you earn a portion of the Harvest which is either a new gate or an upgraded attraction such as the bird show. (see Harvest Updates for more information)
Earn Profit on Shaking Items/Clickable Bonus items - There are several items in yours and your Neighbor's Zoos that can be clicked on for cash. (See Tree, Sculptures and Topiary Bonuses. Click on these items once per day to earn a large profit.
Locating the hidden Bonuses on Neighbor's Zoo - Each one of your Neighbors have one animal at their Zoo that is hiding a secret bonus. The amount varies based on how much your Zoo is worth. Click on each animal until you find it. TIP – Start with the neighbors at the very end that are not very far along in the game as you will be able to find their bonuses fast since they have less animals and land at this point. When you get the the advanced players note that the bonus could be on any of up to 10 pieces of land and you may not want to waste your time looking over so much land but note that the bonuses go up in value if you find them on a farm that is worth a large amount of money.
Bonus on Visit to neighbors- You earn a visiting bonus once per day for each Neighbor. This amount varies based on the value of your Zoo.
Change Ticket Prices - Changing Ticket Prices can increase your daily profit considerably. Be sure to check it often and especially after you place a large number of animals or attractions.
Detail of Optional Bonuses
Zoo Lottery - Can be played as many times as you wish. Costs 2 Wildlife points. You win 2 wildlife points for each correct match you make. (See Zoo Lottery below for more details)
Zoo Quiz - Once per day you can answer a random question about a zoo animal and win either Wildlife points or Zoo Dollars.
IMPORTANT NOTE – Each time you click on an animal you will be given an interesting fact about that animal. While you are looking for the hidden bonus on your Neighbor's Zoo you can use this time to study up for potential Zoo Quizzes.
Earning of Wildlife Points
These are earned at a rate of 1 coin per level beginning at level 3.
You can also win them by playing the Zoo Lottery but you must spend them in order to play.
You can purchase Wildlife Points with a major credit card, Paypal account or Cell Phone services such as Paymo and SMS Pay.
You can earn free Wildlife Points by participating in the surveys listed on the purchase page but be careful as these are sometimes not worth your time. You can find the surveys and special offers at the bottom of the "Wildlife Points" page.
When you reach certain levels of mastery in breeding, Wildlife Points can be earned.
Shaking Items, Zoo Lottery and Zoo Quiz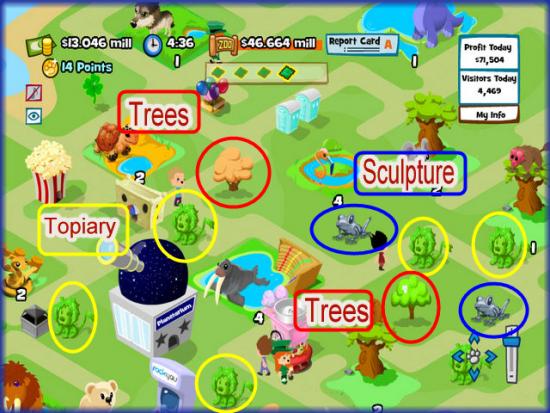 Shaking Items – Click on Trees, Topiary and Sculptures for Cash.
Now you can click on Topiaries, Trees or Sculptures for Cash once every 24 hours.
You can click on your own and all of your Neighbors.
This is a great way to increase your profits.
Note that all of these items can be upgraded to items that yield more money when you click on them. (See Collectibles.)
How to play Zoo Lottery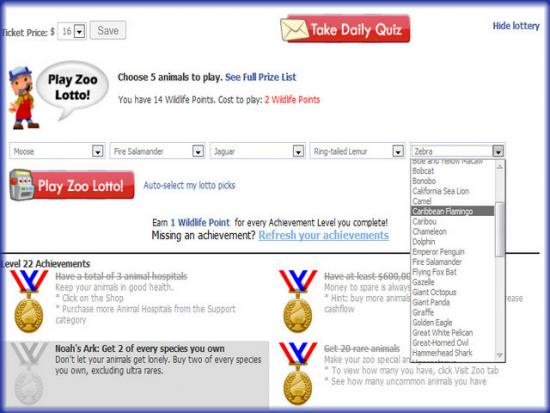 The Zoo Lottery can be found by clicking on "Home" at the top of your Game's main menu.
Click on the red button that says "Zoo Lottery"
Note that it will cost you 2 Wildlife points to play.
You will be asked to choose one animal from 5 different pull down menus where all of the animals are listed.
The aim is for you to match as many animals as possible.
You will win 2 Wildlife Points for each match you make.
As long as you have Wildlife Points you can continue to play.
How to Participate in the Daily Zoo Quiz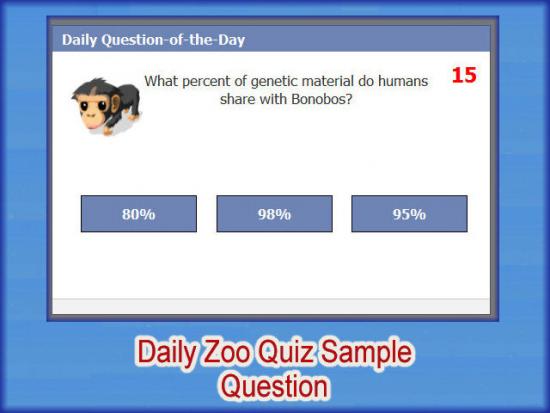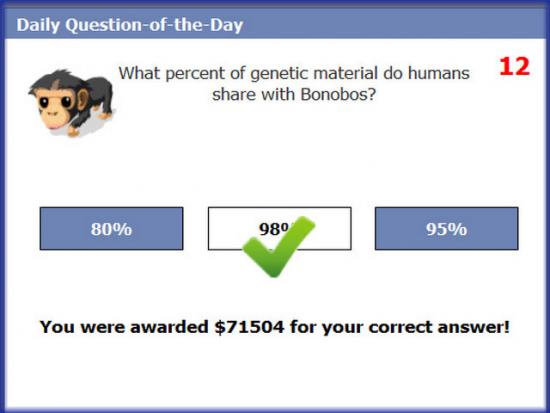 Click on the "Home" page in the Main menu and you will see a link to the Zoo Quiz which is a red button that says, "Take Daily Quiz"
You will be asked a question and you have to answer it within only 15 seconds.
If you are correct you will win a large sum of cash which is based upon your level and Zoo's value.
Awarding of Game Bonuses/Daily Money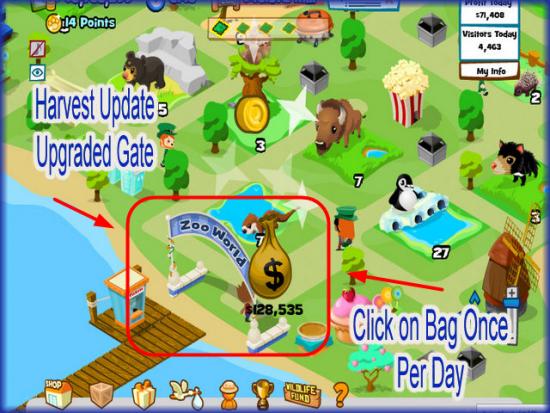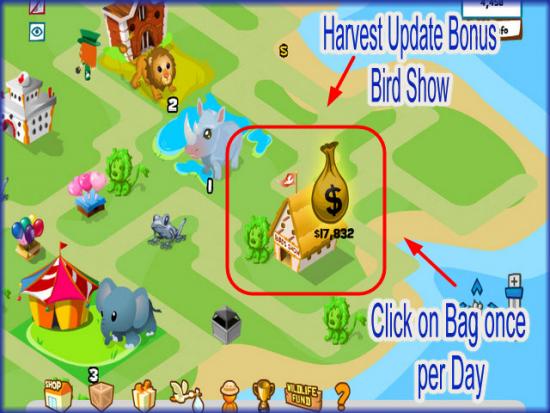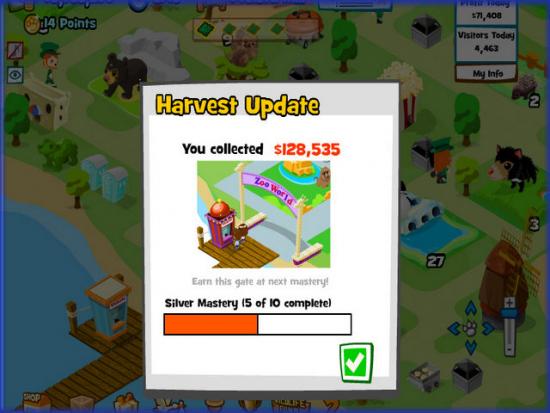 Harvest Updates (Bonuses)-
Harvest Updates are bonuses that award you money daily until they are mastered and once mastered you will obtain an advanced item for your Zoo. There are 2 current Harvest Items and more will likely be introduced in the future. These items are seen when you visit your Zoo for the first time in a 24 hour period and you will see a gold money bag at the front gate.
Harvest item 1 – Gate Upgrade, Harvest
IMPORTANT NOTE – You will have one bag of money at each gate you own. For each piece of land you own you will need to visit and click on the gate to collect the bonus money.
Updation of Gate - You will receive money for bronze, silver and gold mastery and your gate will update at each of these levels as well. When you achieve the gold mastery you will have completed this gift.
Updation of Bird Show – This attraction also updates daily with money rewarded for the different levels of mastery beginning with bronze and ending with Gold. When you reach the gold level you will have an updated attraction for your Zoo.
It seems that you work on one harvest update at a time but this could not be confirmed for certain.
Visit to neighbor Bonus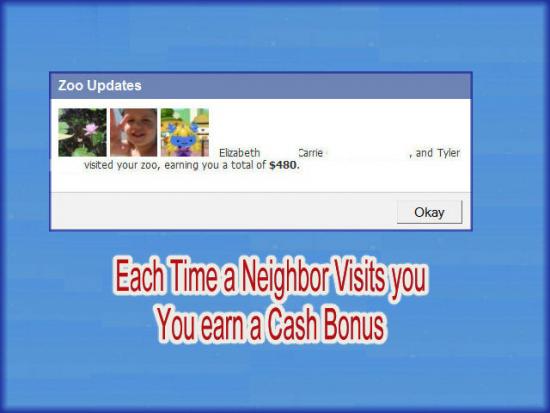 Whenever a Neighbor visits your Zoo you are rewarded with a bonus. You will see this amount when you visit your Zoo along with the names of the Neighbors who gave you the bonus so you can reciprocate.
Visit to your Neighbor Bonus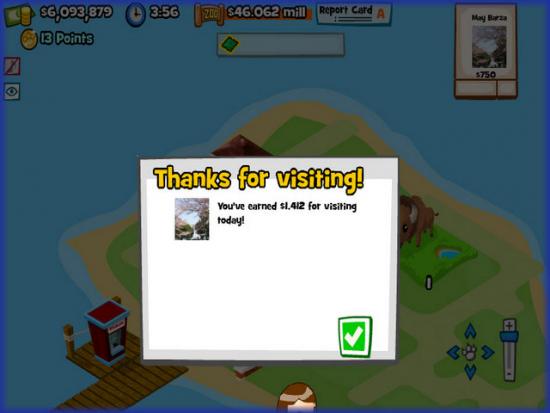 You will also receive a bonus once every 24 hours when you visit a Neighbor. (See Visiting Neighbors Below)
The amount you receive varies based on the value of your Zoo.
Finding of Hidden Bonus on Neighbor's Zoo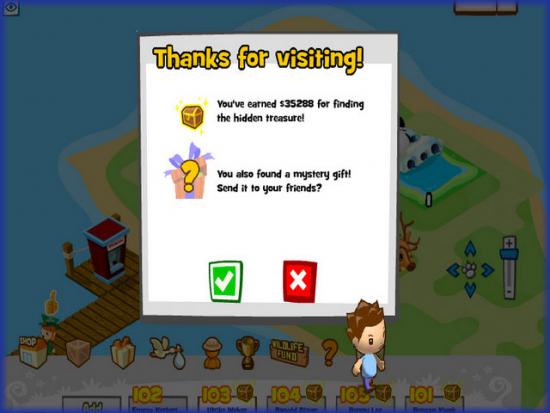 Each Neighbor has one animal hiding a hidden bonus and by clicking on your Neighbor's animals when you visit you can find this.
You can also at times find hidden mystery gifts with the hidden bonuses. These are gifts you can send out to the live feeds for your friends to claim and they will win a great item to place on their Zoo.
Special Tip – When searching for the hidden bonuses begin with the Neighbors with the lowest scoring Zoos as they have less animals and items to look through.
Earning Money using Live Feed Bonuses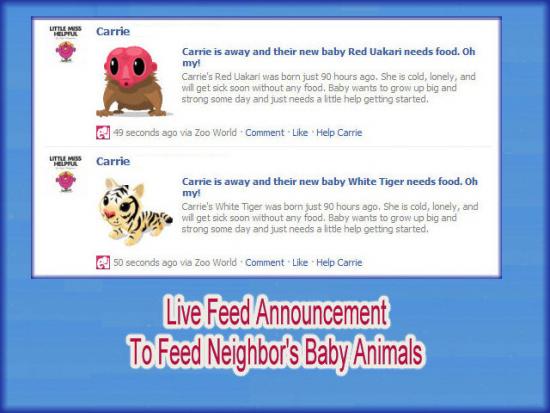 There are many ways to earn money using the live feeds.
Rescue lost Animals - When you see links for lost animals be sure to rescue them for a big bonus.
Feed Newborn Animals - Click on posts to feed newborn baby animals to earn money.
Receiving of Free Daily Gift/Collectibles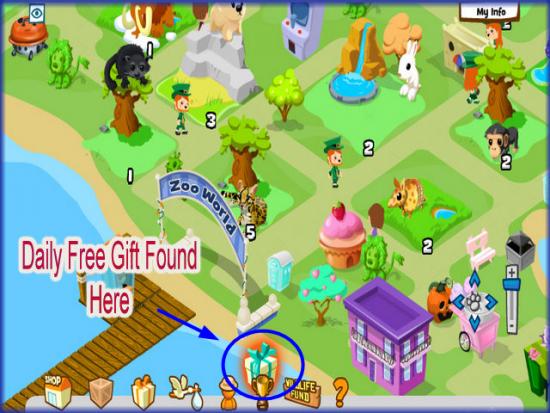 You will see gifts located at the bottom of your screen near your Zoo's front gate once per day.
Click on this box to receive your free daily gift which is a collectible item.
When you have collected an entire set an attraction at the Zoo will be updated.
Future Collections are anticipated and will be updated in this guide.
Collection of Wrenches
Collect a different color wrench each day until you have all 7.
Whenever you have all seven the Cotton Candy Attractions in your Zoo will upgrade.
You can also collect wrenches from your Neighbor's Zoos.
Collectibles Breakdown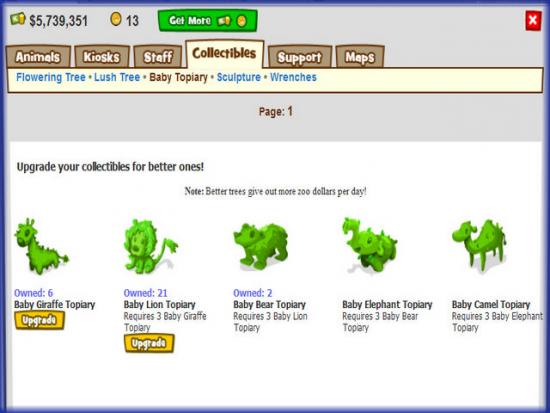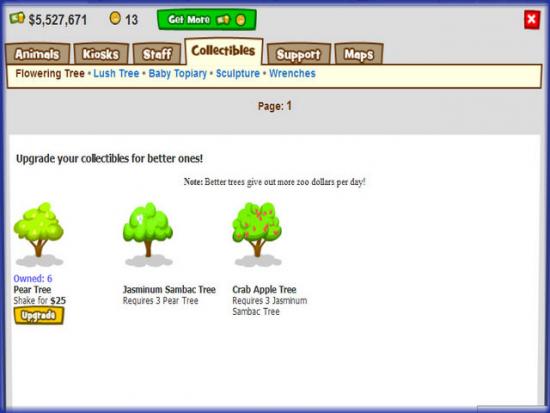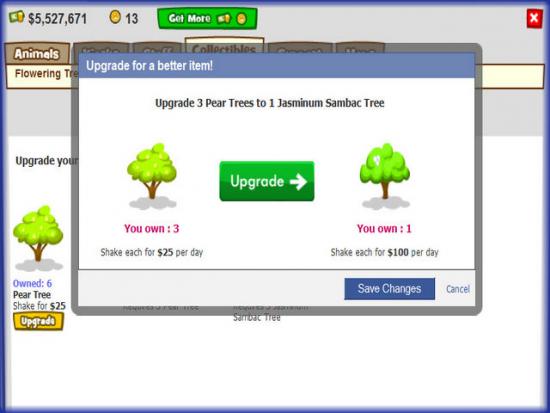 Collectibles are broken into 5 categories on the Menu. Once you collect enough of one item it can be traded for an upgraded item which will give you more money when clicked on. Items start out at $25 Zoo Dollars per Click (or Shake) and 3 of any item can be traded for 1 of the next level's item. This continues and each trade gives you an item that yields more money per click or shake.
Flowering Trees - Pear, Jasminum Sambac, Crab Apple, and Pomegranate Trees. Example – 3 Pear Trees ($25 Per Click) can be traded for 1 Jasminum Sambac Trees ($100 Per Click) which can be traded for Crab apple trees which can be traded for Pomegranate Trees. NOTE – Pear trees must be gifted to you from Neighbors as they are an unlimited gift.
Lush Trees – Oak, Red Oak and Maple Trees. Oak ($25 Per click/shake) 3 Oaks can be traded for 1 Red Oak ($100 Per Click/Shake) These can only be acquired through mystery gifts from visiting your Neighbor's Zoos looking for Treasure.
Baby Topiary - Baby Giraffes ($25 per Click/Shake) 3 Giraffes can be traded for 1 Lion ($100 per Click/Shake) progressing to Bear, Elephant and Camel. (Baby Giraffes can only be found in the live feeds.)
Sculptures - Frogs ($25 Per Click/Shake) 3 Frogs can be traded for 1 Monkey Sculpture ($100 Per Click/Shake) progressing to 3 Monkeys for a Dolphin. Sculpture are found in Mystery gifts and shared with Friends on the live feeds.
Wrenches - See above.
Treasure Hunters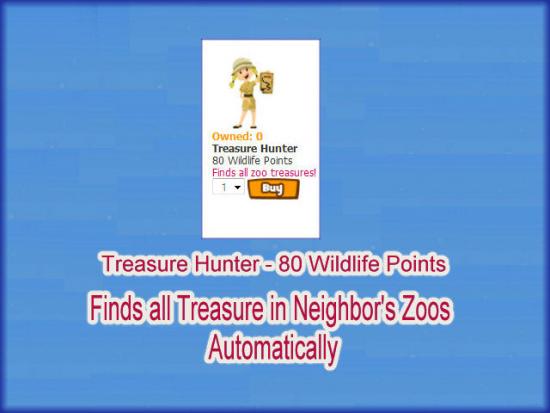 A treasure hunter can be purchased for 80 Wildlife Points and can be found in the Staff area of the Shop.
If you purchase a treasure hunter each time you visit a Neighbor the hidden treasure will be automatically found for you.
This will save you a lot of time and will earn you a large amount of money each day.
This is the most valuable buying in the game as far as return on your investment is concerned.
Report Cards and Zoo Information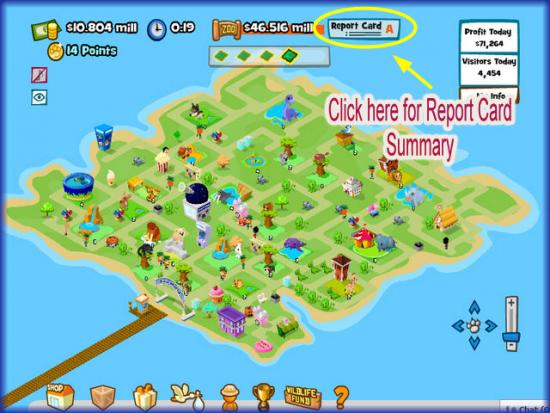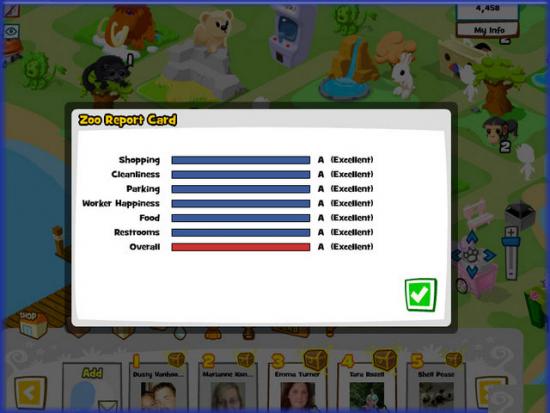 At the top right of the screen you will see your overall grade for your Zoo.
You begin with the grade of "C" but this will go down quickly if you do not purchase improvements and upgrades.
The game will give you advice and tell you what is needed to improve it. Follow these hints whenever you can afford it.
The better the grade the more money you will earn overall for your Zoo.
Grading Categories:
Shopping
Cleanliness
Parking
Worker Happiness
Food
Restrooms
Overall
Zoo Information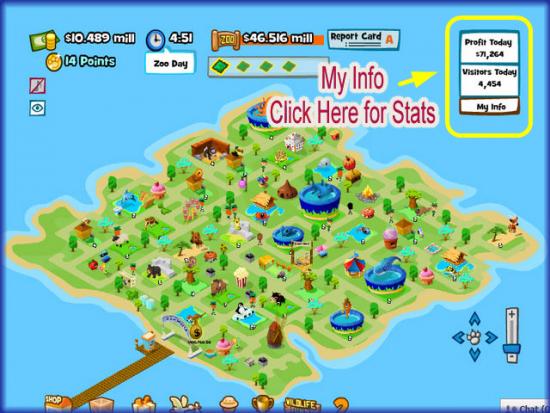 Click here to see a summary of the number of animals you own and which type.
Click on the "My Info" tab at the upper right of your Zoo Screen.
You will also see how many tricks have been learned if any and who has visited your Zoo recently so you can reciprocate the visit or send a gift.
Determining your Zoo Ticket Price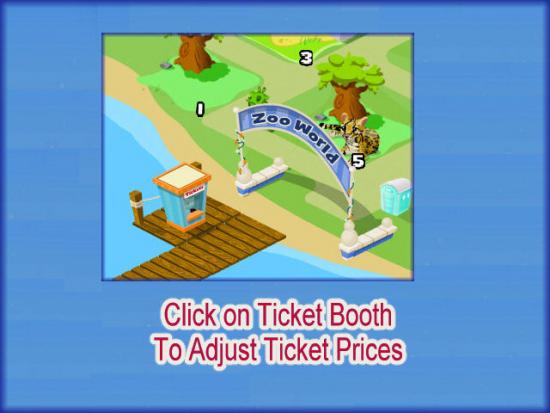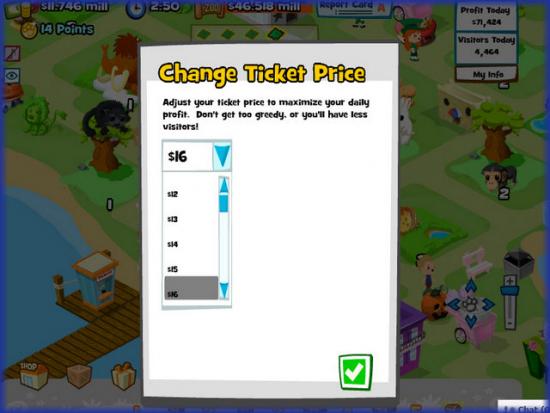 When you begin the game you will fix your ticket price at $1.00 per visitor and this can be done by clicking on the ticket booth in the scene.
You will see a menu open up where you can change the ticket price from 1 – 16 dollars.
After you change the ticket price you will be knowing as to how much your daily profit changes as well as the number of visitors per day.
Play with this by testing different amounts and always leave it where you have the most profit.
You will need to change this whenever you have a significant change to the number of animals or attractions you add to your Zoo.
IMPORTANT TIP TO NOTE – If you have a level challenge that asks you to have a certain number of visitors in your Zoo in one day you can set the ticket price to 1 dollar and that will tell you the maximum that will come to your Zoo in one day and you can adjust according to what you need.
Procedure for Visiting Your Zoo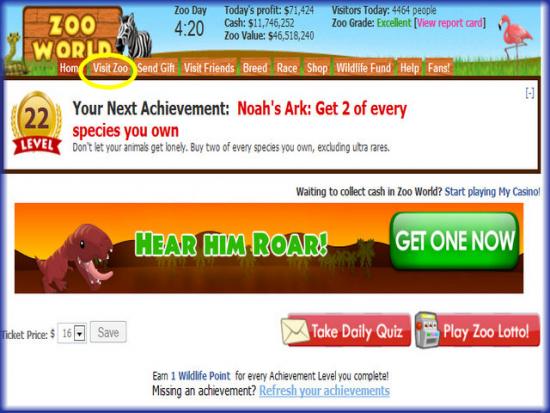 To Visit your actual Zoo you will click on "Visit Zoo" at the top of the page and this will take you to your Zoo.
You can zoom in or out with the bar at the far right corner of the screen if you wish.
Click on an area of the land and hold down your mouse button while dragging your mouse and this will cause the land to move and you will be able to navigate around your Zoo.
NOTE – As your Zoo becomes more valuable it increases in size and eventually you will receive another piece of land to continue your Zoo up to 10 Zoos. You can purchase Maps and change the outer look of the Zoo or you can decorate each land however you wish. Some put only trees on one piece of land to make shaking trees easier. Others divide the zoo land by animals placing all birds on one, Primates on another etc.
There is no right or wrong. Design your Zoo the way you want it. Just keep adding to it and keep checking ticket prices to make sure you are making an optimum profit.
Visiting Your Neighbors' (Zoomates') Zoos.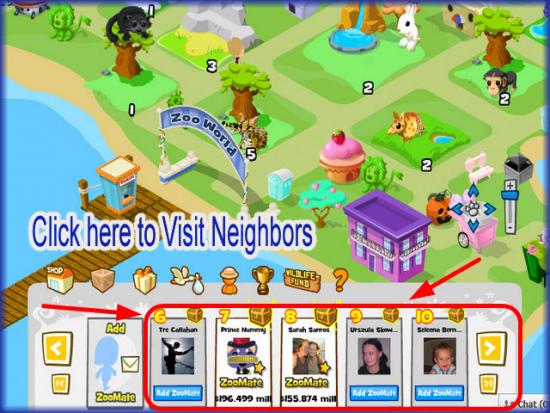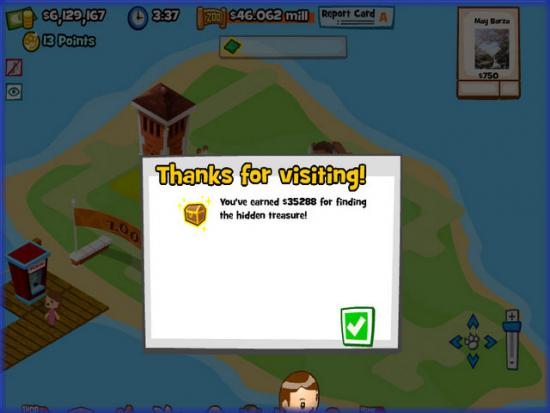 Your neighbors are a very important part of the game as they will gift you items that can be traded in for more valuable items. (See Collectibles )
You will earn a bonus for each Neighbor you visit and you will also be able to find a hidden bonus behind one animal of your Neighbors Zoo. The amount depends on the value of your neighbor's Zoo. If you are willing to take the time to find all of these bonuses you will be able to afford many animals and will zoom to expert zookeeper in no time.
To visit your neighbors you can do 1 of 2 things. When you are visiting your Zoo scroll down to the bottom of the page and you will see your neighbors listed in order from highest scorer to lowest scorer.
IMPORTANT TIP – Start visiting with the lowest scoring neighbors as they have less animals to look through for the hidden bonuses and mystery gifts.
While you are visiting your Neighbor and looking through animals for hidden bonuses be sure to click on all the trees (Shake Trees) to earn coins for them as well. You can click on a tree, sculpture or Topiary once per 24 hours.
Growing and Maintaining your Zoo/Important Considerations
As you play the game you will continue to earn money each Zoo day and purchase animals and Attractions for your Zoo.
Each time you purchase animals you will need to hire Zookeepers.
Each Time you purchase attractions you will need to purchase Maintenance Managers.
As your size enhances, you will be prompted to buy parking lots and restrooms for your Zoo.
As number of animals are enhanced, you will need to purchase animal hospitals and veterinarians to run them.
You may want to buy a Zoo Specialist to help you with your Zoo.
If you have a large number of friends a Treasure hunter will allow all hidden treasure to be instantly found when you visit your Neighbors and is a great investment of 80 Wildlife points.
Another great investment is any trees that shake out Wildlife points each day. If you are lucky enough to have these they will continue to payout Wildlife Points long after you finish all of the level requirements and no longer earn them by leveling up.
Importance of Gifts
Sending Gifts to Neighbors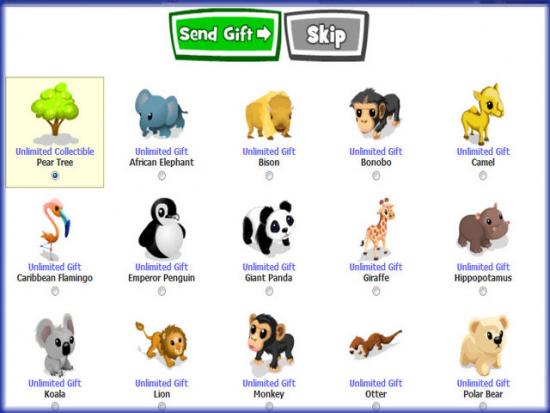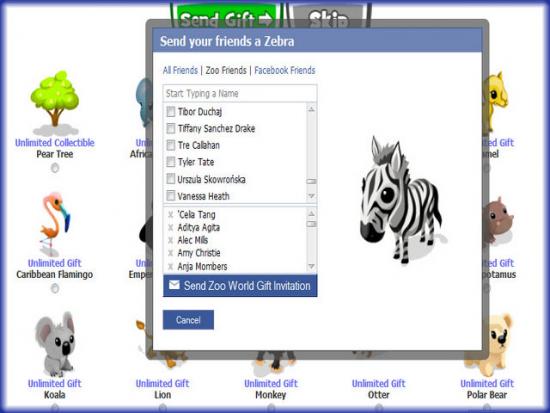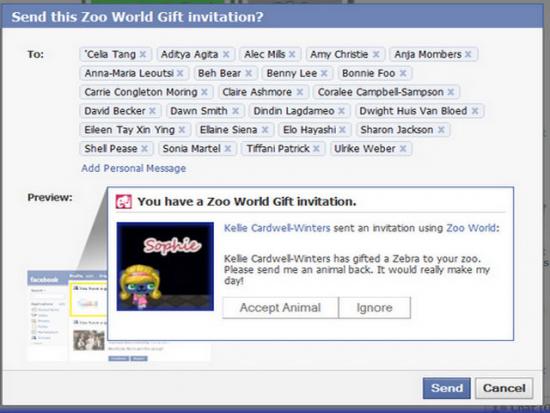 You can send 1 gift to a Neighbor once every 24 hours up to a maximum of 24 Neighbor's per day.
If someone sends you a gift there will be a link right there you can click on to automatically send that person back the exact gift they sent to you. (Most people gift the items they would like to have for this purpose.
You can send 1 of the same items to 24 friends at the same time or you can choose to send items back to those that gift you first.
To send 1 gift to several friends – Click on either the gift icon at the left middle of your Zoo screen or click on "Send Gift" at the very top of the main game menu.
You will be taken to a screen where you can choose a gift and there are 3 types of gifts to choose from which are explained in the next section. (See Types of Gifts) Which gifts you can send depend on how far along you are in the game as they unlock as you progress in the game.
Choose your item and then click on send gift. You will be taken to a menu where you can choose all of the people you wish to gift the item to. When finished click on send and you are finished gifting for the day.
Your Neighbors will receive a notification in the Requests area of their Facebook page telling them that you have sent them a gift.
Types of Gifts/Unlimited Free, Limited and Collectible Gifts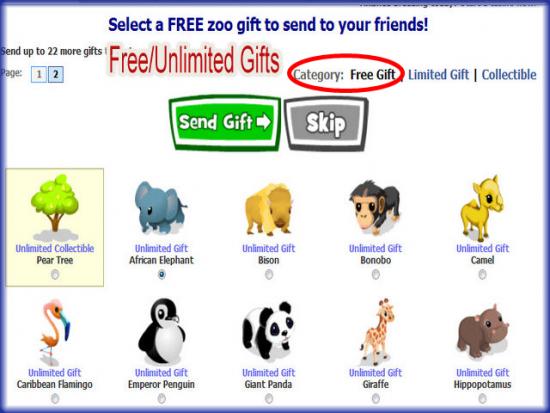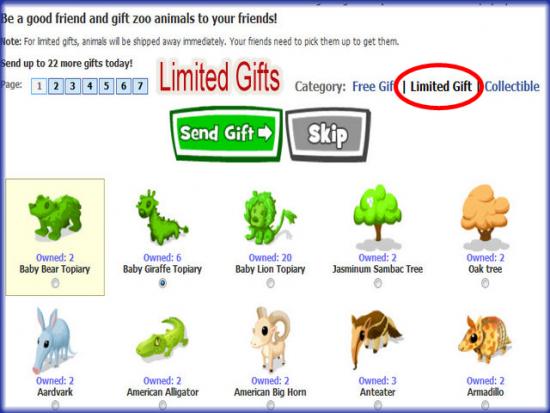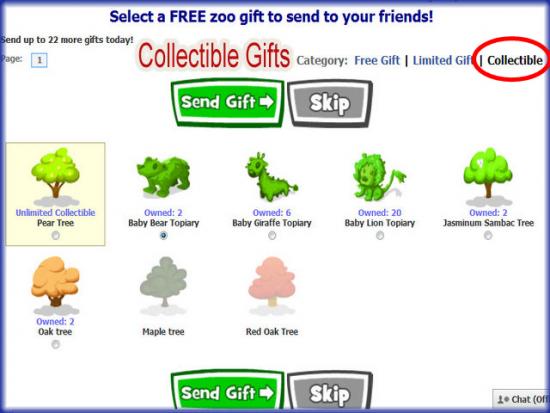 There are 3 types of gifts you can send to your Neighbors.
Each type depends on how far you have progressed in the game as different gifts unlock as you progress.
Click on "Send Gifts" look to the far right where you will see "Free Gifts, Limited, and Collectible"
Unlimited /Free Gifts/Unlimited Gifts and Collectibles - These are animals you can only obtain by other gifting it to you so it is important that you gift these items to others so they will reciprocate the gesture. Visit your Unlimited page to see which animals are available for you to gift in this category. Unlimited gifts do not affect your personal supply of animals. You can give away unlimited animals once every 24 hours for up to 24 of your friends. (Unless you use the tip below in which you can give out many more per day.)
Limited Gifts - Limited gifts are those items that you can gift once you own them and if you do gift them you are giving away your own personal supply of animals. Only use these when trading animals with others.
Collectibles - These items such as Trees and Topiary Sculptures can only be given once you own them and like the limited gifts if you give one away it will deduct from your supply of these items. Only gift these items if you are trading them with others unless you just want to be nice and give them away for free.

Gift Giving Tip/Increase daily gifting amount.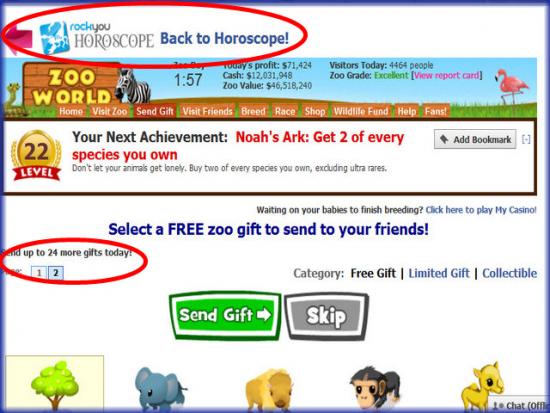 Receiving Gifts from Neighbors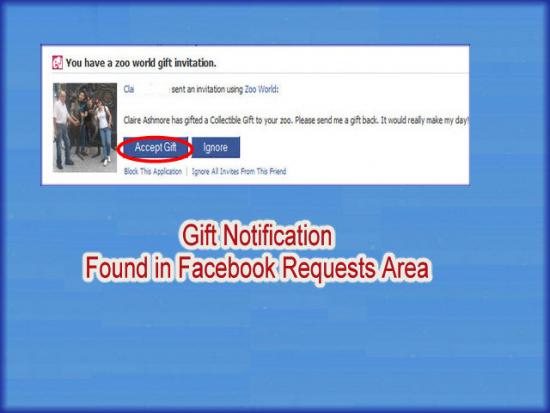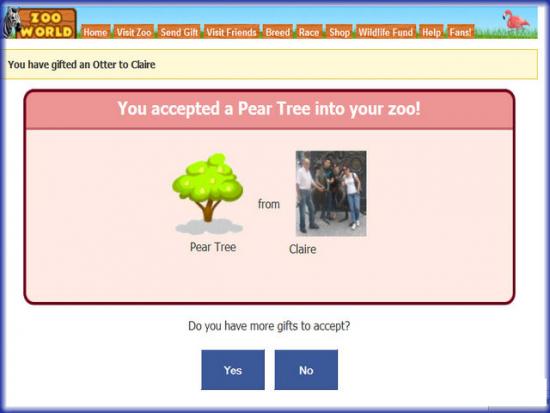 When a Neighbor sends you a gift you will be notified in the "Home" area at Facebook along the left hand side you will see a list of your bookmarked games. Look for Zoo World and if any numbers are next to it that is the number of gifts that are waiting for you to approve and accept.
You can also click on the upper right hand links on the home page which will take you to a page where all of your pending gifts are waiting from all of your Facebook games.
Search for Zoo World and click on the gift links one by one accepting them.
NOTE – You have the option of sending a gift to your Neighbor at the point at which you accept it or you can wait and do this later.
NOTE – If you accept an item you have never had before it will go into your inventory. If you already own that type of animal it will add to the total in the area you placed that animal in your Zoo.
Once you have accepted all of your gifts go back into the game and click on "Visit Zoo" and if you have any items in your inventory a message will appear asking if you wish to place them on your Zoo at this time. Just click yes and place them where you want them.
Remember gifts can be given 1 time only every 24 hours to a maximum of 24 friends per day.
Animal Types and Breeding
Animals are broken down into 8 Types
Ultra Rare – These items can only be purchased using a credit card or Wildlife Points which also must be purchased with a credit card. Ultra Rare animals never count in level up challenges or achievements.
Mammals
Birds
Aquatic
Amphibian
Reptile
Primate
Insect
Trading Animals and Finding New Neighbors for Trading

The best way to obtain new Neighbors and rare animals for your Zoo is to join a community of people with this common goal.
Post a message in the forums such as "Looking for New Zoomates" and give them your Facebook contact information.
You will be able to make trades with this player daily until you both have the rare animals you are looking for.
You can also go into forums and post a specific thread for a specific animal such as, "Looking for a Poison Dart Frog"

Procedure for Breeding Zoo World Animals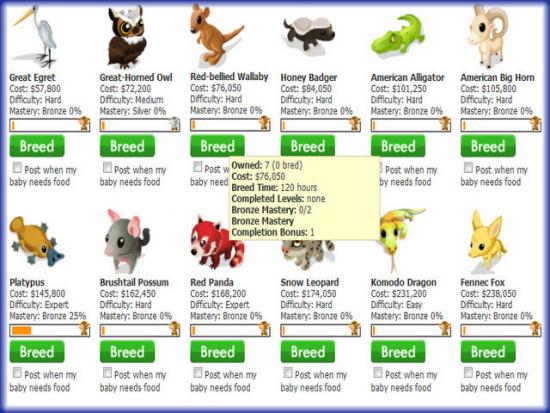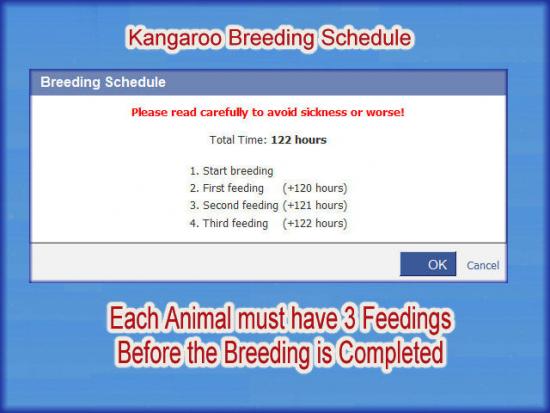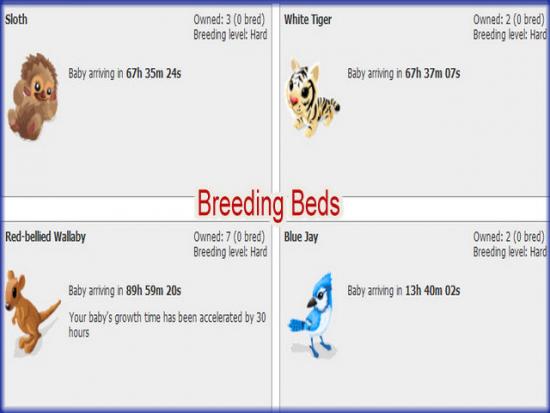 Requirements for Breeding
Must have 2 animals of the same species.
Must purchase a breeding house and 1 Veterinarian. (You must purchase 15 animals to unlock the Vet)
You can breed 3 animals at a time in 1 breeding house.
There are different difficulty levels of breeding. Easy, medium, hard, and Expert.
Each animal you breed has a level of mastery that must be achieved and these are known as bronze, Silver, Gold, Platinum and Diamond.
You can now earn Wildlife points for breeding animals and the amount earned is based on the value of your Zoo at the time you breed.
When an animal is available for breeding a breed button will appear underneath it along with a cost for breeding the animal listed above it. If you place your mouse on the breed button you can see stats on that particular animal as shown in image above.
Click on Breed and your animal will move down into the breeding house area.
If you have Growth formula you can apply it to reduce the breed time by 25%.
You can also click on a link to post in the live feeds for people to feed your baby animals when they arrive. Your neighbors will get a cash bonus for helping you out.
Each Animal takes a specific amount of time to breed. Once you make the purchase there is a count down clock at the site which will show you how much time is left until your babies arrive.
Your babies must be fed at certain intervals before they arrive.
Be sure to check back daily and click on breed to feed your babies daily.
You can also set the game to post if your babies need to be fed when you are away from the game and your Neighbors can feed your babies and earn money for doing so.
Some animals can take over 100 hours to breed a baby.
The Breeding Nests are located on the Breed page and there are 3 there to begin with. You can unlock up to 5 more by recruiting 20 of your friends as Zoomates for a maximum of 8 animals that can breed at once.
Tip – Breeding Specialists only add 1 more nest to your page. They cost 80 Wildlife Points and hardly seem worth that price. It is better to spend those Wildlife points on a Treasure Hunter or Trees that Shake Wildlife Points.
Once you complete enough breeding on a particular species finishing all levels of mastery you will become a Breeding Master for that Species and the animal becomes more valuable in your Zoo.
NOTE – The game has announced that a new visual version of the breeding area will be coming to the game. You will be able to see babies in their nests soon.
TIP – There are many sites that list all the Wildlife Breeding Points for the Animals. If you are interested in Breeding several animals the chart given there will be a big help. There are also other very helpful things on these site page.
Breed Times and Levels of Various Animals
Easy (14 Animals)
Bald Eagle – 4 Hours (Trainable Animal)
Swift – 4 Hours
Blue Footed Booby – 16 Hours
Bird of Paradise – 16 Hours
Black Momba – 16 Hours
Emerald Tree Boa – 20 Hours
Sugarglider – 20 Hours
Puffin – 23 Hours
Kookaburra – 23 Hours
Komodo Dragon – 24 Hours
Blue Whale 48 Hours
Capybara – 48 Hours
Blue Whale – 48 Hours
Hedgehog – 120 Hours
Medium (7 Animals)
Vampire Bat – 8 Hours
Albatross – 12 Hours
Great Horned Owl -24 Hours
Pika – 48 Hours
Giant Octopus – 72 Hours
Wolverine – 72 Hours
Scottish Highland Sheep -120 Hours
Hard (46 Animals)
Giant Sable Antelope – 4 Hours
Brushtail Possum – 4 Hours
Black Swallowtail – 4 Hours
Sun Bear – 4 Hours
Eland – 4 Hours
American Alligator – 8 Hours
Alligator Gar – 8 Hours
Blue Billed Firefinch – 8 Hours
Emu – 8 Hours
Gray Wolf – 12 Hours
Leopard – 12 Hours
Tree Kangaroo – 12 Hours
King Vulture – 24 Hours
Dall Sheep – 24 Hours
Dollar Sunfish – 48 Hours
Blue Jay – 48 Hours
Cougar – 72 Hours
Snow Leopard – 72 Hours
Asian Wild Horse – 72 Hours
Tiger Salamander – 72 Hours
American Big Horn – 96 Hours
Bactrian Camel – 96 Hours
Impala – 96 Hours
Peregrine Falcon – 96 Hours (Trainable Animal)
Manatee – 96 Hours
Big Foot – 96 Hours/58 WP
Binturong – 120 Hours
Black Panther – 120 Hours
Blue Billed Firefinch – 120 Hours
Dik Dik – 120 Hours
Speckled Bear – 120 Hours
Fennec Fox – 120 Hours
Great Egret – 120 Hours
Harbor Porpoise – 120 Hours
Honey Badger – 120 Hours
Humpback Whale – 120 Hours
Leatherback Sea Turtle – 120 Hours
Ocelot – 120 Hours
Red Bellied Wallaby – 120 Hours
Red Uakari – 120 Hours
Ruffled Lemur – 120 Hours
Sloth – 120 Hours
Speckled Bear – 120 Hours
White Rhino – 120 Hours
White Tiger – 120 Hours
Walrus – 120 Hours
Expert (10 Animals)
Micronesian Kingfisher – 4 Hours
Narwhal Whale – 8 Hours
Andean Condor – 12 Hours
Platypus – 12 Hours
African Buffalo – 24 Hours
Gharial – 48 Hours
Red Panda – 48 Hours
Rhea – 96 Hours
Sundra Loris – 120 Hours
Yellow Mongoose – 120 Hours
Ultras (20 Animals) (These Animals can only be purchased with Wildlife Points (WP).
Unicorn – 4 Hours/27WP
Yeti – 4 Hours/60WP
Rainbow Peacock – 4 Hours/67WP
Dodo Bird – 8 Hours/72 WP
Haitian Relief Flamingo – 12 Hours/20WP
Snowy Owl – 16 Hours/40WP
T-Rex – 12 Hours/67WP
Buddy Bear – 24 Hours/58WP
Green Dragon – 24 Hours/74WP
Pegasus – 48 Hours/63WP
Stegosaurus – 48 Hours/70WP
Elephant Bird – 48 Hours/0.99
Woolly Mammoth – 48 Hours/40WP
Brontosaurus – 72 Hours/72 WP
Mischievous Monkey – 72 Hours/67WP
Gremlin – 72 Hours/58 WP
Phoenix – 96 Hours/72WP
Cutie Puff – 100 Hours/70WP
Holiday Reindeer – 100 Hours/67WP
Lovebirds – 12 Hours/40 WP
Growth Formula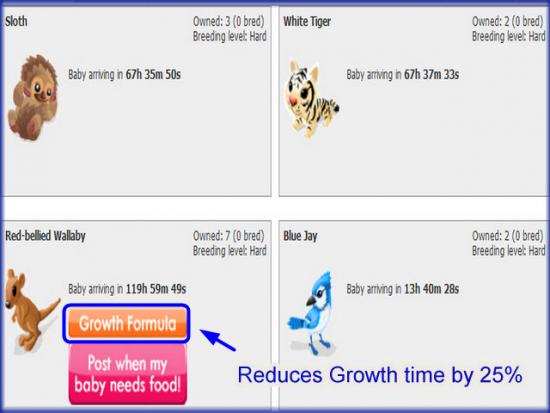 Growth Formula is earned whenever you feed a Neighbor's baby animals by clicking on a link in the live feeds.
These add up and are kept for you until you need them.
When you breed an animal you will be asked if you want to use Growth Formula. If you choose to you will reduce the overall breeding time by 25%.
Solo Racing/Team Racing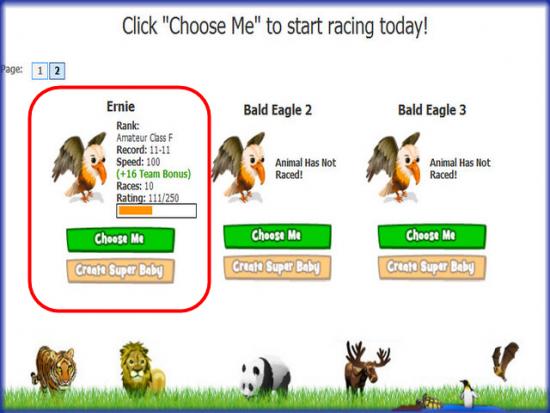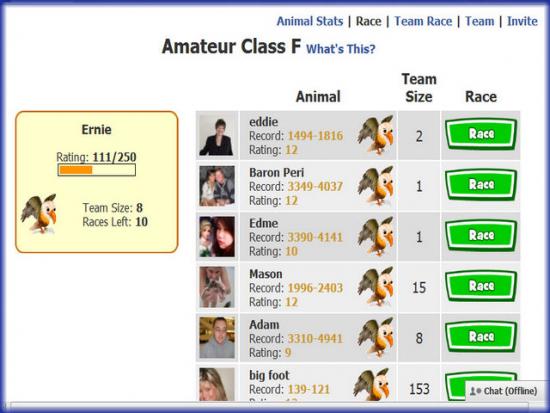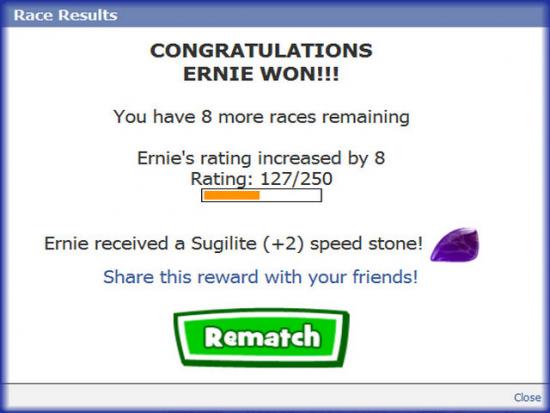 You have the option to run your Eagles in Races.
You can run in 10 races per day and a maximum of 5 races per opponent per day.
As you race you are listed in a particular Class and will be pitted to race against others in your class. These people are not people on your friend list.
Your Amateur Class is determined by the number of points you have earned. There is an Amateur Class A through S. Each advance through the Classes will give you 125 Point Speed Boost.
You can run Solo races to help unlock animals and you can run Team races. You will have to ask for people to help you in the live feeds to run the team races.
As you win races you earn speed stones. The more races you have won the faster you will become.
After you race 10 Races you must wait until the countdown clock that appears lets you race again. If you are willing to pay 2 Wildlife Points you can bypass the clock and instantly race 10 races again.
Click on the "Race" tab at the top of the page.
Now you will see all the Eagles you own on the page.
Choose one Eagle to race against other Zoo World Players.
You will be asked to Name your Eagle and then the race will begin.
You will see an image of a bird you can race against. Click on the yellow right arrow to scroll through other choices.
Once you have a bird to race against click on "Start"
You will see a time listed and you have the option of asking for a helper by clicking on "Sprint"
If you gain time in the race you will earn a speed stone and you will see it listed in a message right away.
You can continue to race until all races are finished or can stop at any time.
Check back to see how you have done with your racing as team racing especially takes a long time to finish.
This is a fairly new feature to Zoo World and still in the testing stages.
How to Move Items from one Island to Another
If you wish to move an item from one Island to another you simply place it back into inventory.
Click on the inventory button to open the menu and you can now remove any item from an Island.
Drag it back into the inventory box and then click on the Island at the top that you wish to place the item.
Once there simply drag the items to the screen and place them where you want them.
When you are finished click on the green box to save your changes.
How to Help Animals
Helping Lost Animals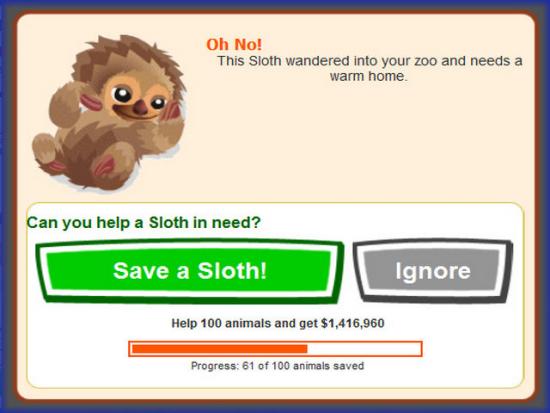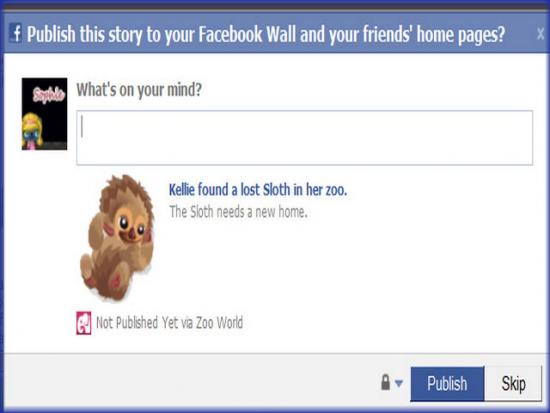 While you are playing Zoo World you will occasionally see a message pop up asking you if you would like to help a lost animal.
If you agree to help that message will appear on the live feeds for your Neighbors to click on and earn a nice cash bonus.
Once you have a certain number of people help a certain animal then you will be awarded with a nice cash bonus.
There is no penalty if you choose not to help a lost animal.
When you see lost animal posts in the feeds be sure to click on them for a cash bonus.
Helping Hands for Free Animals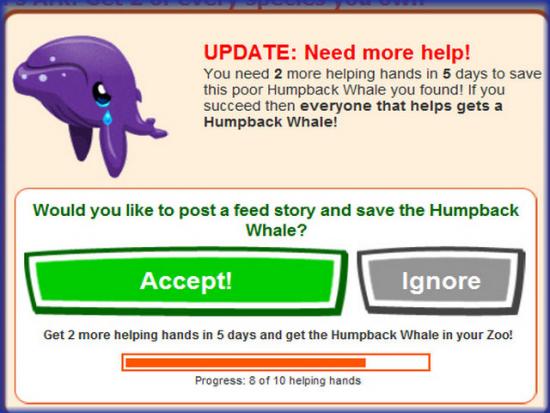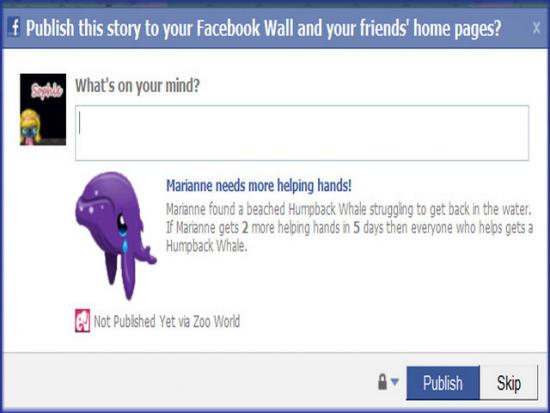 You will occasionally see the offer to help the Humpback Whale. (Animal may change in the future)
If the specified number of people (Usually 10) all agree to help when the link is posted in the live feed then every person that helped will earn a free Humpback Whale for their Zoos.
When you see the image above click on it to send the link into the live feeds.
At the bottom it will tell you how much progress you have made.
Training Animals to Do Tricks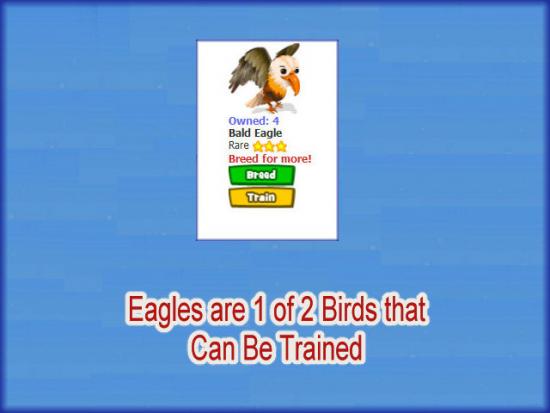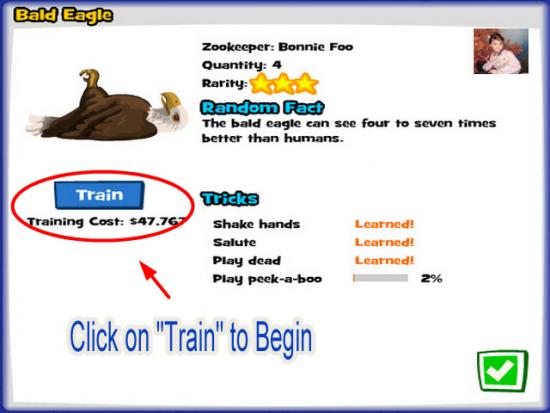 Currently only 2 animals in the game can be trained to do tricks and that is the Bald Eagle and the Swift.
It is significant to begin training Eagles as soon as possible in the game as you will need to do a lot of it to level up in the game and it costs a lot of money for each level.
Click on the Eagle or Swift and there will be a "Train" button or you can go to the Animals area in the Shop and you will see a Train button under your Eagles there.
Click on Train and it will deduct the money for that session.
You will see a countdown clock appear that will tell you how much time until that training session is over.
You may have to come back hours later to hit the train button again for the next session.
Eagles and Swift can learn tricks such as shaking hands, Salute, Playing Dead and Playing Peek a Boo.
A trained animal is worth a lot more than an untrained one.
More animals are expected to be trainable in the game.
Trophies Available in the Zoo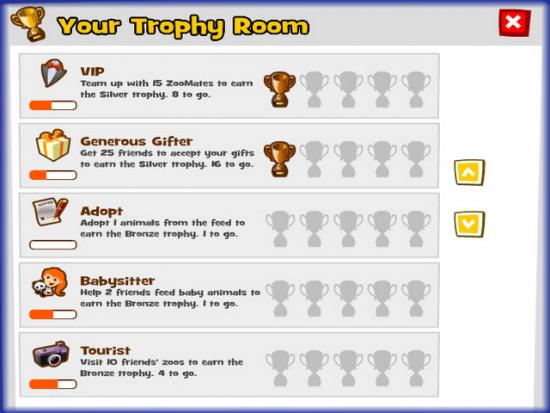 There are currently 10 Trophies available in Zoo World but this could change at any time.
Each Trophy has 5 award levels to achieve. These are bronze, Silver, Gold, Platinum, and Adamantium.
Each achievement level has specific requirements.
To access your Trophy Room click on the Trophy icon at the bottom of your Zoo menu.
When the menu opens you can see which ones you have already earned and it will tell you how many you need to reach the next level.
In the table shown below are the amounts needed to earn the various Trophy levels.
Trophy Name

Bronze

Silver

Gold

Platinum

Adamantium

VIP
(Team up with Zoomates)

5

15

25

50

80

Generous Gifter
(Get Friends to accept your Gifts)

5

25

500

5,000

10,000

Adopt
(Adopt animals from the live feed)

1

15

50

150

500

Babysitter
(Help Friends feed Baby Animals)

5

10

20

50

500

Tourist
(Visit Friend's Zoos)

2

10

50

100

1,000

Animal Rescuer
(Help Friends to Adopt Animals)

25

50

100

500

1,000

Golden Receiver
(Receive Gifts from Friends)

3

50

100

1,000

5,000

Hired Help
(Have friends help you feed your baby Animals)

3

25

50

100

1,000

Most Popular
(Have Friends visit your Zoo)

2

10

50

100

1,000

Shaker
(Shake Trees, Sculptures and Topiaries by Hand)

25

1,000

100,000

500,000

1,000.00
Ideas for Zoos
You will find a few images of advanced Zoos and some of the creative things people have done while decorating them.
IMPORTANT TIP – I noticed a few people saved an entire Island for trees only. This is a great way to save time while shaking trees each day and also makes it easier on your Neighbors when they visit.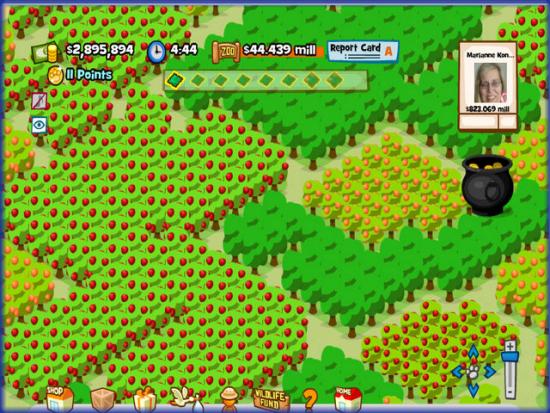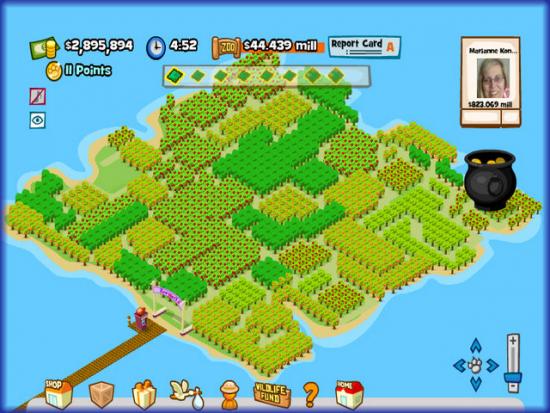 Zoo owner uses 1 Island to fill with Trees.
Owner – Marianne R.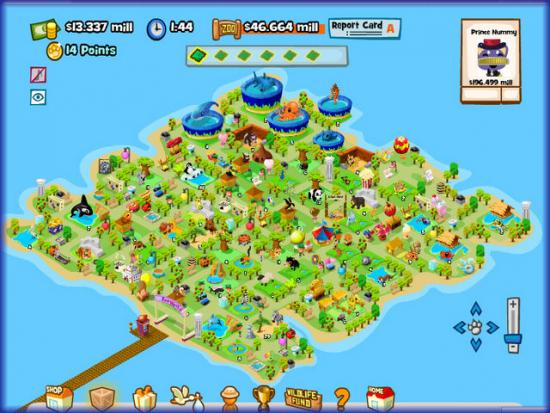 Zoo Owner has a very well organized Zoo.
Owner – Prince N.
This Website is not affiliated with Zoo World Classic. trademarks are the property of their respective owners. Game content and materials copyright Zoo World Classic. all right reserved.